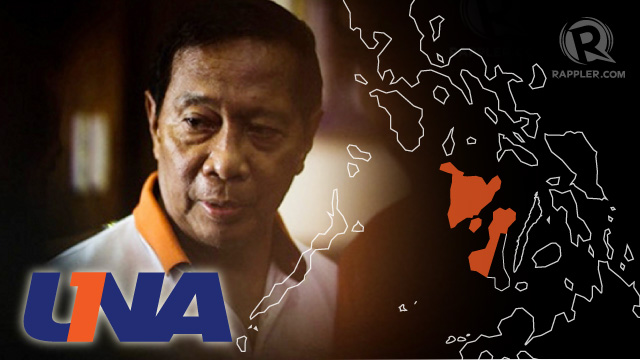 MANILA, Philippines – In 2010, Jejomar Binay was walloped in the home region of rival Mar Roxas. In 2013, his coalition thinks it stands a chance there.
Binay's United Nationalist Alliance (UNA) will campaign in Western Visayas (Region VI) over the weekend, a region known not just as the bailiwick of Liberal Party (LP) president-on-leave Roxas but also other administration stalwarts.
From April 12 to 15, UNA senatorial candidates will visit Aklan, Antique, Bacolod, and Iloilo, the home province of administration Team PNoy campaign manager Sen Franklin Drilon.
Roxas hails from Western Visayas, particularly Capiz. The region has 4,049,640 voters.
In 2010, Binay defeated Roxas in the vice presidential race in 14 out of 17 regions nationwide, except Western Visayas, Central Visayas, and Caraga in Mindanao.
"Every election is a different election. Historical data will let us know why VP Binay lost there in 2010. Local leaders say now, it will be a different story," UNA campaign manager Navotas Rep Tobias "Toby" Tiangco told Rappler.
What is different is that this time around, Binay and his coalition have allies in the region. After 2010, some Lakas, Nacionalista Party (NP), and LP members there transferred to UNA.
In Iloilo, UNA is banking on provincial chairman 4th District Rep Ferjenel Biron. He is the alliance's gubernatorial candidate, challenging re-electionist Gov Arthur Defensor Sr of the LP.
Biron's running mate is former Vice Gov Rolex Suplico, up against former Barotac Viejo Major Raul "Boboy" Tupas of the LP.
UNA is also fielding congressional candidates in all of Iloilo's 5 districts and in the lone district of Iloilo City to rival LP candidates.
Its congressional bets include former Technical Education and Skills Development Authority (TESDA) chief and re-electionist 2nd District Rep Augusto "Boboy" Syjuco, and former Iloilo City Rep Raul Gonzalez Jr, son of former Justice Secretary Raul Gonzalez.
This is also the case in Aklan and Antique, where the opposition has candidates for Congress, governor, vice governor, mayor, and councilors.
In Bacolod, UNA does not have any candidate, saying it is already dominated by the Nationalist People's Coalition (NPC) of businessman Eduardo "Danding" Cojuangco Jr.
UNA campaign sortie manager Henry Caunan said the Binay camp will have a fighting chance in the region in May.
"May laban kami, 2010 will not happen again. Iba na ngayon, may tao na kami. We have people campaigning for us. Siyempre, incoming president ang amin," Caunan said in reference to Binay's 2016 presidential ambition. (We have a chance. It's different now because we have people campaigning for us. We have a standard bearer for 2016).
Unlike Binay, Interior Secretary Roxas has yet to declare his plans for 2016, but Drilon named him as the likely LP standard bearer.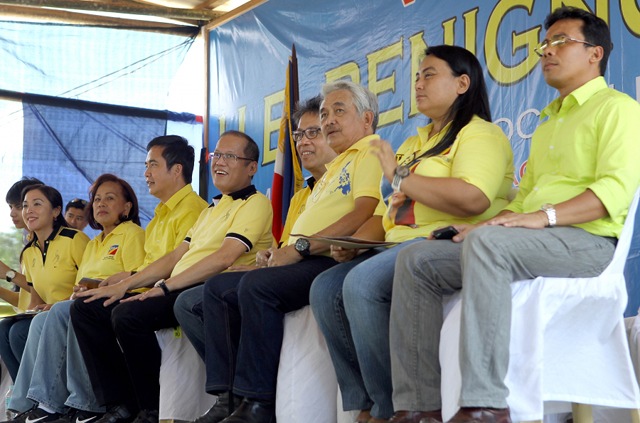 ROXAS FACTOR. Team PNoy boasts of the LP's strength and machinery in Western Visayas because of the "Roxas factor." President Aquino visited Roxas' home province of Capiz on April 10 with the Interior Secretary to endorse local LP candidates. Photo by Malacañang Photo Bureau
'Mayors matter'
Iloilo has 1,270,100 registered voters. Aklan has 328,642 voters, Antique has 318,214, and Bacolod City has 259,302.
While UNA has allies in Western Visayas now, Tiangco and Caunan conceded that winning in the region remains a challenge because the LP has the advantage.
Besides Western Visayas' ties to LP's national leaders, many of the region's incumbent representatives and governors are LP members. The administration also took pains to safeguard its base, especially Iloilo.
President Benigno Aquino III pushed to unite Iloilo's Defensor, Tupas, and Garin clans to strengthen the LP and continue development projects in the province. As a result, former Gov Niel Tupas Sr gave way and no longer ran against Defensor for governor.
UNA's Biron is challenging the 3 LP-allied dynasties.
As a sign of the province's strategic importance, Aquino already visited Iloilo twice to endorse his senatorial slate since the campaign period for national candidates began. He first visited the province in February and returned this week.
In his first campaign visit, Aquino even took a swipe at UNA's Syjuco, a close ally of former President Gloria Macapagal-Arroyo. The President criticized TESDA's scholarship program under Syjuco's watch, saying vouchers bounced and caused government a P2.4 billion debt.
In their visit to the region this week, Team PNoy senatorial bets Sonny Angara and Cynthia Villar boasted of the LP's strength and machinery in Western Visayas, citing the "Roxas factor."
Still, UNA is unfazed. Tiangco said the partnership between LP, NPC and the NP worked against the administration in Iloilo.
"Ferj Biron was with the NP but allied with us because he felt left out in the coalition. He supported NP in 2010 but he was not even consulted after the NP allied with the LP," Tiangco said in a phone interview.
Caunan, who used to head Binay's political affairs office, said the incumbent LP governors do not worry the opposition.
"They do not have all the mayors. For example in Aklan, the governor is LP but not all mayors are with LP. The mayor is crucial because the mayor holds the political base. The mayor holds all the barangays," Caunan said.
"In Capiz, Gov [Victor] Tanco and Mar Roxas are LP but not all the mayors are theirs," he added.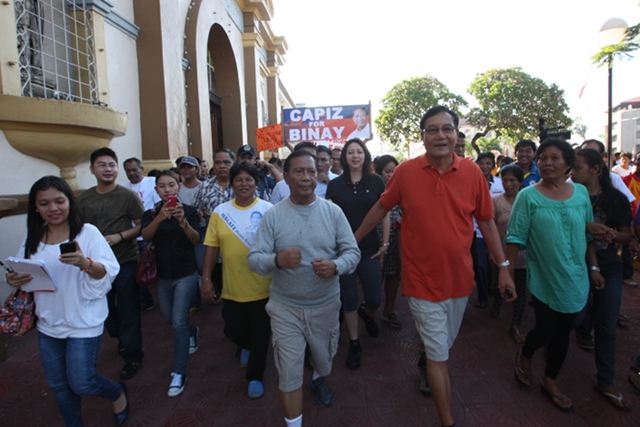 EARLIER VISIT. Vice President Binay visited Capiz with Zambales Rep Mitos Magsaysay in June 2012. The UNA sortie in Roxas' home province this month was delayed to ensure Binay can attend the event. File photo from OVP Media
Waiting for Binay in Capiz
UNA noticeably left out Roxas's home province in its Western Visayas leg this weekend.
Caunan explained that the local candidates want Binay to be in their proclamation rally, and had to delay the event because the Vice President will receive Brunei Sultan Hassanal Bolkiah in Manila next week.
Binay also missed UNA's Leyte, Tacloban, and Ozamiz sorties this week to open the Philippines' cultural exhibit in Paris.
Tiangco said, "Our local leaders want VP Binay to be in Capiz because they want to show him that UNA is strong in the bailiwick of Mar Roxas." – Rappler.com