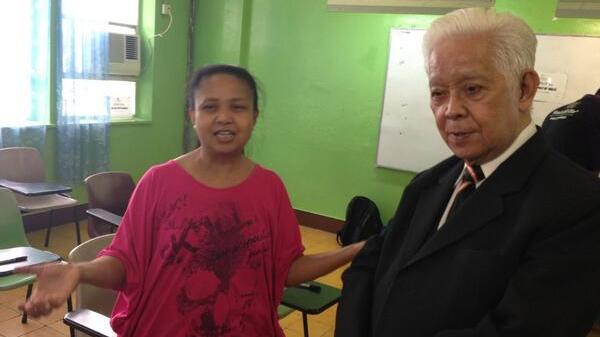 FIRST DAY. Comelec chair Sixto Brillantes Jr with the first voter in Hong Kong to cast her vote for the 2013 elections. Photo from Brillantes' Twitter account
MANILA, Philippines - Commission on Elections Chairman Sixto Brillantes, Jr launched the first day of overseas absentee voting all over the world on Saturday, April 13 in Hong Kong -- home to the largest number of registered overseas absentee voters.
With the exemption of Jeddah in Saudi Arabia, the first day of overseas absentee voting for Filipinos starts Saturday, April 13.
Brillantes announced Friday, April 12, that the start of absentee voting in Jeddah was pushed a week later to Tuesday, April 16. To compensate for the voting hours lost, Comelec extended voting hours in the area by 1 hour everyday.
In 2010, about 95,000 out of the 122,820 Filipinos eligible to vote in Hong registered as overseas absentee voters (OAV).
For those in the Philippines, voting for the 2013 elections will be on May 13. - Rappler.com