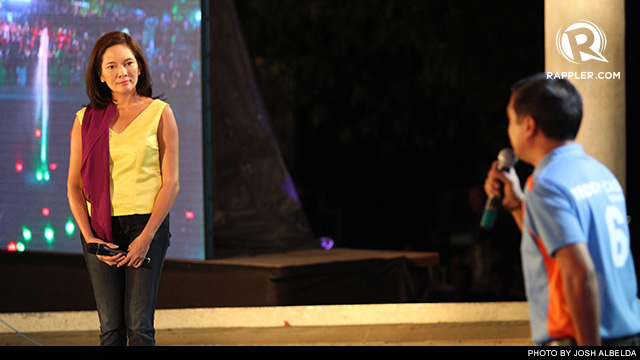 MANILA, Philippines – "I'm not with the Liberal Party, I'm with Akbayan."
This was how Risa Hontiveros fended off insinuations that, if elected, she could not be relied upon to oppose questionable policies of the Aquino administration, which has adopted her as senatorial candidate.
At the Rappler senatorial debate on Saturday, April 13, Makabayan candidate asked Hontiveros about a raging issue hounding the administration at the moment: Would you be in favor of firing Ruffy Biazon as head of the Bureau of Customs?
Hontiveros did not answer categorically. She only said that solving the problem of smuggling lies in enforcing "radical changes" in the agency. Biazon is the President's party mate in the Liberal Party.
"The best answer is to provide a context to the bigger change. Ruffy Biazon himself proposed more radical changes to make the agency more effective. If the proposal to axe the agency goes forward, there are proposals to privatize it. For me, there is also a responsibility for fare rules in the competition," she said in Filipino.
Casiño's rejoinder focused on the issue of Hontiveros' acceptance of campaign contributions from the sisters of then presidential candidate Aquino in the 2010 elections.
He asked: How can you ensure check and balance in the administration when you received a P2-million campaign contribution from the Aquino sisters?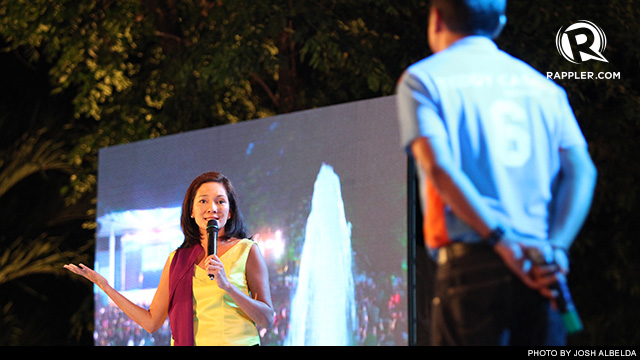 Hontiveros said there was nothing shameful about this, and thanked the presidential sisters for believing in her advocacy.
"Higit na mahalaga na ipagpatuloy ang mga laban ng nakaraan pati laban sa kurapsiyon," she said. (It's more important to continue the fight against corruption.)
Hontiveros is a member of the political party Akbayan, which is part of the administration coalition Team PNoy.
This is her second bid for a Senate seat. As guest candidate of the Liberal Party in 2010, she lost in the race. She finished 13th out of 61 senatorial candidates that year, garnering 9.1 million votes.
Before that, she was a congresswoman for 9 years, representing Akbayan in the party list.
(Read Rappler's profile: Risa Hontiveros: Senate win like RH bill passage - uphill but possible)
Casiño is on his third term as congressman, representing Bayan Muna in the party list. He is the lone candidate of Makabayan Party in the 2013 senatorial polls. Before becoming congressman, he was a student leader, a newspaper columnist, and spokesperson of the progressive group Bagong Alyansang Makabayan.
(Read: Teddy Casiño: A Rappler profile)
Hontiveros and Casiño belong to rival groups in the Philippine left.
Akbayan is associated with the moderate Left, composed of activists linked to socialists and social democrats. Bayan Muna, on the other hand, is associated with the radical Left.
In this year's elections, Bayan Muna's poll watchdog Kontra Daya filed a disqualification case against Akbayan over its ties to the Aquino administration.
Watch the #RapplerDebate here. It is also being aired live in 120 Radyo Natin stations nationwide. – Rappler.com
---
Related Stories: