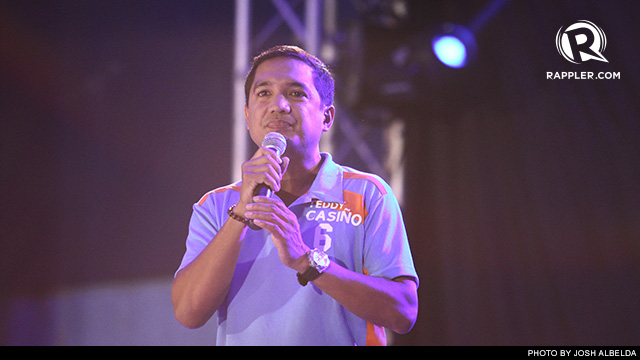 MANILA, Philippines - Filipino first.
There is no need to amend the Constitution to change the rule that limits foreigners to own no more than 40% of businesses in the Philippines, Makabayan senatorial bet Teddy Casiño said during the Rappler Senatorial Debate Saturday, April 13.
"It's important to maintain the 60-40 rule because, even if there is a constitutional requirement for that now, some corporations still find a way around it," Casiño said in a mix of English and Filipino.
"They are the ones who dominate, they are the ones who benefit. For me, what's more important is the implementation of the Filipino First rule," he added.
Some sectors have blamed the 60-40 rule for low foreign investments in the Philippines.
In the 15th Congress, where Casiño is part of as Bayan Muna representative, both Senate President Juan Ponce Enrile and House Speaker Feliciano Belmonte Jr both pushed for amendments to this rule, but President Benigno Aquino III was not keen on it, citing the robust economy.
Casiño is on his 3rd term as congressman, representing Bayan Muna in the party list. He is the lone candidate of Makabayan Party in the 2013 senatorial polls.
Before becoming congressman, he was a student leader, a newspaper columnist, and spokesperson of the progressive group Bagong Alyansang Makabayan.
Watch: Teddy Casiño: A Rappler profile:
Rappler's first senatorial debate, held at the Quezon City Memorial Center, is the first time a senatorial debate was held in a public place to allow voters to engage the candidates.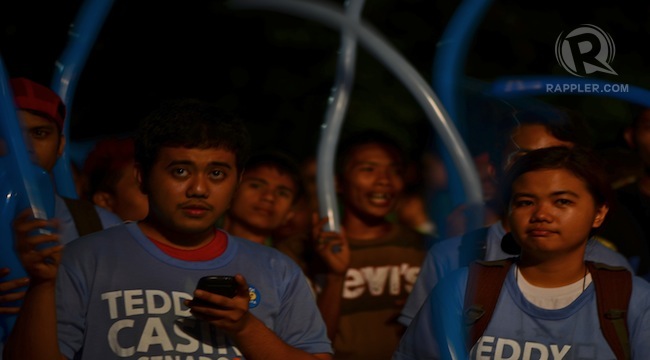 SUPPORTERS. Senatorial bet Teddy Casiñõ and his supporters at the Rappler Debate in Quezon City. Photo by Aya Lowe/Rappler
The debate was livestreamed online through Rappler.com and broadcast live on Radyo Natin, the biggest radio network in the Philippines.Radyo Natin has 100 stations nationwide - from Claveria and Aparri, Cagayan in the north to Bongao, Tawi-tawi in the south - which broadcasts to audiences never before reached by other radio stations. Radyo Natin is found on the FM band. - Rappler.com
---
Related Stories: