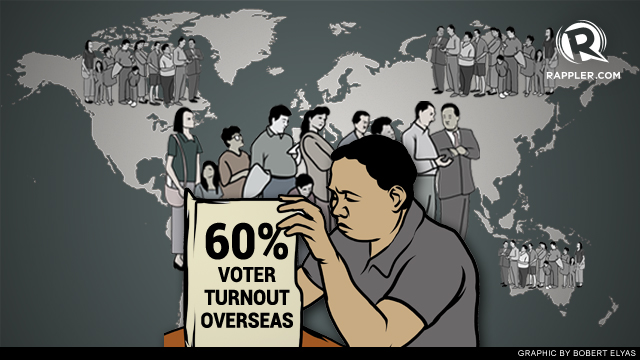 MANILA, Philippines – The Commission on Elections (Comelec) is expecting an increase in turnout among overseas absentee voters (OAVs) in this year's elections. The month-long voting abroad started Saturday, April 13, here.
Comelec Commissioner Lucenito Tagle, chair of the committee on OAV, said they are expecting the voter turnout this year to reach 60 percent. This means that they are expecting up to around 585,000 Filipino voters outside the Philippines to elect national candidates.
The 60-percent target turnout is quite high, considering that the OAV turnout in the last two elections were at a low of 25 percent (2010) and 16 percent (2007).
In the first overseas absentee voting in 2004, however, the turnout was at 65 percent. At the time, the said turnout was considered low by policymakers in the Philippines, after the government spent more than P112 million for the exercise.
For 2013, according to Comelec, there are 975,263 Filipinos outside the country who are eligible to vote. They include the 237,504 who were initially delisted by the poll body in December after they failed to vote for two consecutive elections but have since been reinstated.
Tagle said the increase will be bolstered by the expansion of the automated polls which will encourage more Filipinos abroad to vote.
Seven overseas posts – Hong Kong, Riyadh, Dubai, Jeddah, Singapore, Kuwait, Abu Dhabi – will implement automated voting this year. In the 2010 elections, automated voting was implemented only in Hong Kong and Singapore.
In the 2010 elections, the voter's turn out was only around 25 percent or 153,323 of the 589,830 registered voters.
Most of the overseas voters are in the following posts: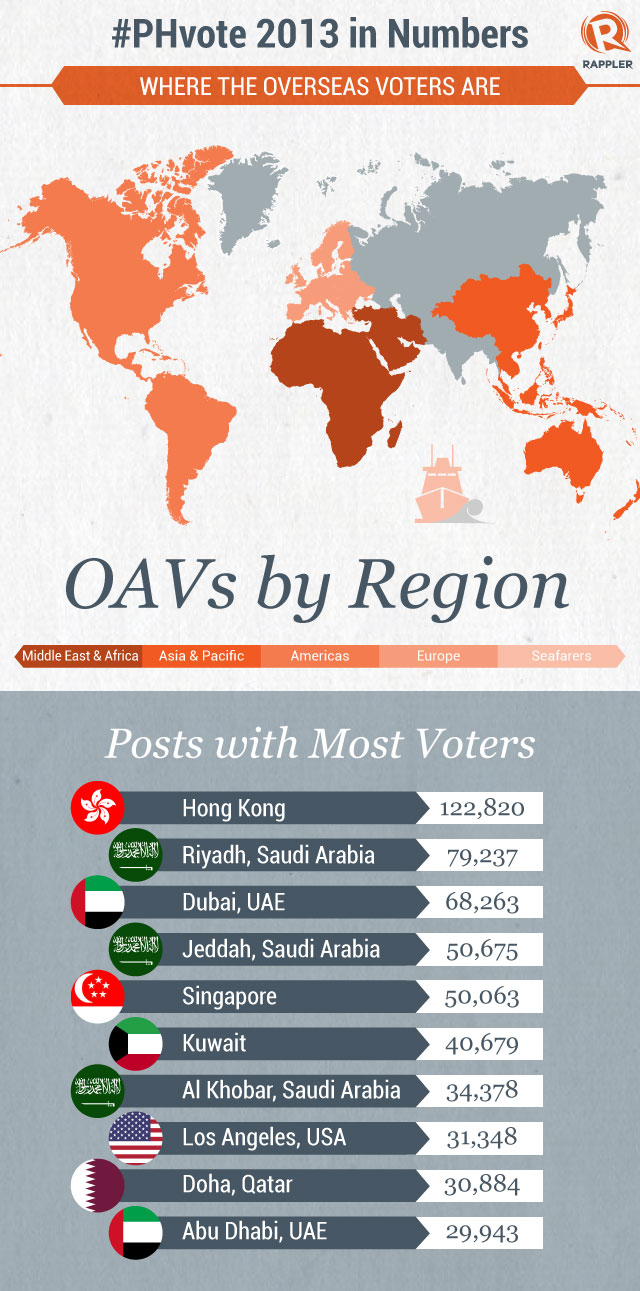 "The Comelec is actually looking forward to the automation of all Philippine posts in the coming elections," Tagle said.
He added the Comelec had also expanded the coverage of postal voting by implementing the modified postal voting. Under this voting scheme, official ballots will be put in individual envelopes with the voters' names. These will be delivered to the posts where the OAVs are registered. The embassy staff will then send the ballots door-to-door to the OAVs.
Meanwhile, Comelec chairman Sixto Brillantes called on registered overseas absentee voters to actually participate in the elections.
"I think they should try to come out and vote starting April 13 up to May 13. We would like to encourage them to vote to increase the number of voters overseas," he said.
"I think the overseas Filipinos should try to exert all their efforts, kasi nahihirapan kami to get budget, funding, for the overseas, because of the low turnout in previous elections. Now we have increased the number of registered voters; we have doubled it. We hope we can also double the number of voters," he added.
Overseas voters have until May 13, the election day in the Philippines, to cast their votes. They are allowed to vote only in national races, which this year include those for the Senate and the party list. – Rappler.com