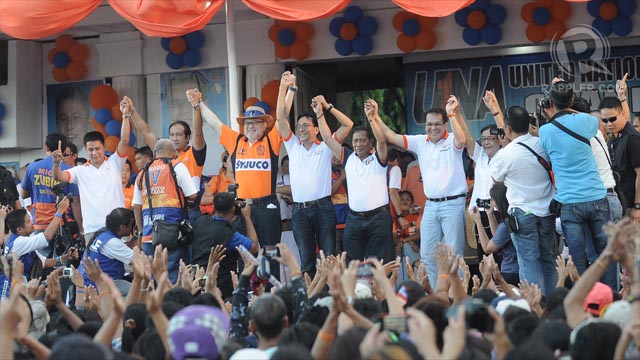 STRONG ENDORSEMENT? Vice President Jejomar Binay and his Iloilo candidates question the endorsing power of LP's Mar Roxas and Sen Franklin Drilon in Western Visayas. Photo by Rappler/Franz Lopez
ILOILO, Philippines – Vice President Jejomar Binay entered rival territory but he and his coalition vowed there will be no repeat of his 2010 loss here.
Binay led the proclamation rally of his candidates under the opposition United Nationalist Alliance (UNA) in Iloilo on Sunday, April 14.
Three years after he lost to Liberal Party (LP) president-on-leave Mar Roxas here, Binay raised the hands of new allies who introduced him to Ilonggos as the next president of the Philippines.
The rally in Barotac Nuevo, Iloilo is part of UNA's campaign in Western Visayas, the bailiwick of Roxas and Team PNoy campaign manager Sen Franklin Drilon.
Yet during the rally and in a press conference, Binay, his senatorial and local candidates questioned Roxas and Drilon's hold on their home regions. Roxas is from Capiz while Drilon hails from Iloilo.
Binay said while he lost in the region in 2010, the administration's political clout here has since weakened. He said Team PNoy's two visits to the province during the campaign period is a sign its candidates are "running scared."
"Nanalo si Sen Roxas sa akin sa Regions 6 (Western Visayas) and 7 (Central Visayas) pero noon 'yung 2010. Ang mga updated sa pulitika, palagay ko [alam nilang] 'di na mangyayari 'yun dito sa 2013 elections," Binay said. (Sen Roxas defeated me here in Regions 6 and 7 but that was 2010. Those who are updated in politics know that will not happen in the 2013 elections.)
Binay's candidates in Iloilo – gubernatorial bet 4th District Rep Ferjenel Biron, vice gubernatorial bet former Vice Gov Rolex Suplico, and re-electionist 2nd District Rep Augusto Syjuco Jr – all vowed to deliver votes for UNA's senatorial ticket.
They blasted Drilon, who promised a sweep for the Team PNoy slate in Iloilo.
Suplico said, "Kung malakas sila dito, bakit dalawang beses na pumunta ang presidente dito? May dalawang schoolchildren nagsuntukan. Ang isa umuwi, hinatak ang tatay niya. That's none other than the President. I remember it's the same Drilon who said, 'We love you GMA. We will transfer Malacañang to Iloilo.'"
(If they are really strong here, why did the President visit Iloilo twice? There are two schoolchildren fighting. One went home, pulled his dad into the fight.)
Biron said Drilon could not even deliver for local bets in the past. "In 2010, Sen Drilon endorsed my opponent, then Gov Niel Tupas Sr. The results of this endorsement? Tupas lost by 50,000 votes. That is how strong the endorsement is of Sen Drilon."
Zambales Rep Milagros "Mitos" Magsaysay said the same is true for Roxas in Capiz. Magsaysay said she is a distant relative of Roxas, and she has relatives in Capiz as well.
"Unfortunately for him, not all our relatives in Capiz support Mar Roxas. They cannot unseat Cong Fred Castro and his wife Jane. That's how strong Cong Fred is despite the much-touted claim that Capiz is Roxas country."
Magsaysay added, "Hindi hawak ni Mar Roxas ang Capiz that is why they are desperate." (Mar Roxas does not hold Capiz.)
Binay's daughter, Nancy, chimed in. "Iba na ngayon, mas marami na kaming local leaders na kasama compared to 2010." (Things are different this time, we have many local leaders now compared to 2010.)
Besides the two senatorial bets, also present in the Iloilo rally were San Juan Rep JV Ejercito, Cagayan Rep Jack Enrile, former Tarlac Gov Tingting Cojuangco, former Sen Richard Gordon, former Sen Ernesto Maceda, and Audrey Zubiri as the proxy of resigned Sen Juan Miguel Zubiri.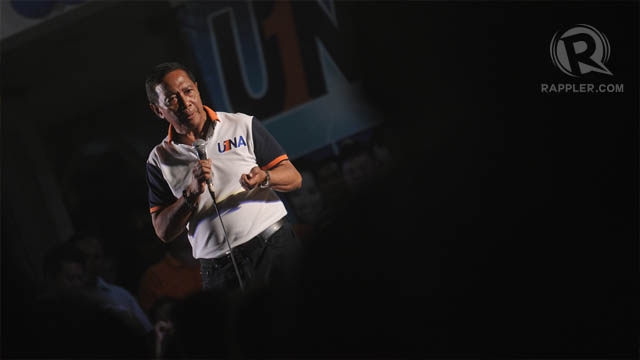 CHANGING COMPLEXION. Binay and his local allies say the changing political complexion in Western Visayas will help UNA senatorial bets win votes in the region. Photo by Rappler/Franz Lopez
'Iloilo battle down to the wire'
Magsaysay said because local dynamics has changed, the political battle in Iloilo will be intense even if the LP allied with Iloilo's Defensor, Garin and Tupas families.
"The LP did not get them all. The Birons and Syjucos still hold their districts so the local fight will go down [to] the wire. It's not an easy ballgame for the 3 groups," she said in the press briefing.
In his proclamation speech, Vice President Binay went all out in campaigning for Biron and Suplico.
"We always maintain in Makati that for purposes of efficiency, the governor or mayor must be a businessman. Gov Biron will surely follow this after the elections. Senate President Enrile, President Erap and I, we guarantee that definitely you have the best candidate for governor and he will be the best governor of Iloilo," Binay said of Biron.
"This will be a good combination: Gov Biron is a doctor, Rolex Suplico a lawyer. I saw Rolex's competence as a lawyer. He will perform well as vice governor."
Binay thanked Ilonggos for coming to the proclamation rally. UNA said the crowd reached 25,000.
"Ibang-iba kayo. Alam niyo kung sino ang magaling. Ito ang aming mga kandidato, sana dalhin niyo." (You are unique. You know who the good candidates are. Here are our candidates. I hope you support them.)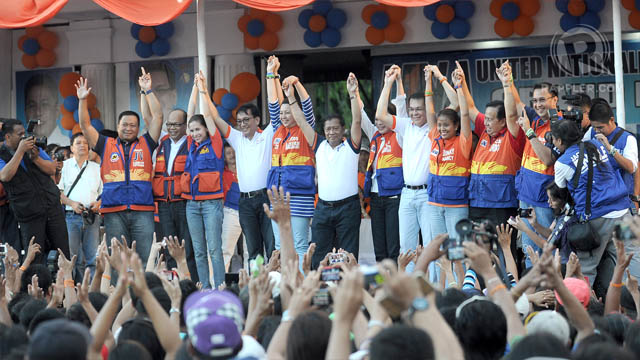 GRAND RALLY. UNA holds its Iloilo proclamation rally in Barotac Nuevo, a town led by the Biron clan allied with the opposition. Photo by Rappler/Franz Lopez
'Typhoon Frank'
Binay's senatorial candidates trumpeted their ties to the province to court Ilonggos.
Cojuangco said her grandfather, Gen Adriano Hernandez, became Iloilo governor while Audrey Zubiri said her husband allocated funds for the Western Visayas State University when he was in Congress.
Gordon cited his efforts to help victims of Typhoon Frank in 2008 as chairman of the Philippine Red Cross.
Syjuco though used Gordon's speech to take another swipe at Drilon. The re-electionist congressman devoted his entire speech to attacking the LP senator and his projects, singing "Drilon bridge is falling down."
"Sen Gordon said Typhoon Frank hit us in 2008 but Typhoon Frank is still here," Syjuco said in Ilonggo.
"Drilon does not own Iloilo. It's about time we change things around and let us start with the senatorial elections."
When Aquino visited Iloilo, he also criticized Syjuco for his leadership of the Technical Education and Skills Development Authority (TESDA) under the Arroyo administration. – Rappler.com