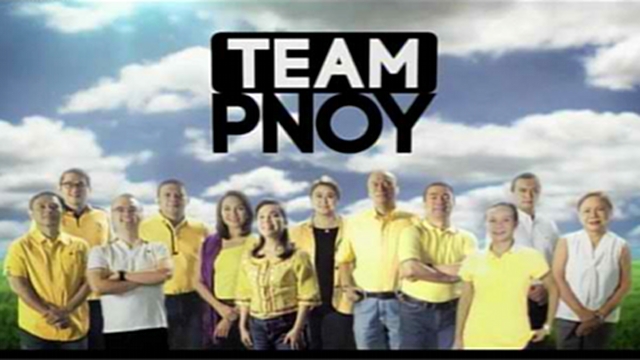 FLOODING AIRWAVES. Some senatorial bets oppose the Supreme Court decision, saying it favors moneyed candidates over 'have-not' bets. Screenshot of Team PNoy slate ad
MANILA, Philippines – If there's "unli text" and "unli calls," then this time expect "unli ads" on the airwaves.
This is how some senatorial candidates viewed the Supreme Court decision stopping the Commission on Elections from implementing airtime limits on political ads on TV networks and radio stations.
The Supreme Court issued on Tuesday, April 16, a status quo ante order that stopped the implementation of Comelec resolutions imposing a 120-minute limit on political ads in all TV networks and 180-minute limit in all radio stations for national candidates.
Bayan Muna Rep Teddy Casiño posted on his Twitter account, "With its [order], the Supreme Court has allowed unli ads. Parang (It's like) unli text, unli call but too costly. It puts candidates like me at a great disadvantage."
In another tweet, the independent candidate quipped, "Sana magsawa ang mga botante sa sobrang dami ng ads nila." (I hope voters will have enough of their many ads.)
San Juan Rep JV Ejercito also took to Twitter to air his concerns about the high court's ruling. The Comelec has named Ejercito as one of the top spenders among those who submitted reports on television and radio ads aired as of March.
Ejercito said, "The airtime limit set by the Comelec levels the playing fields among candidates. The SC decision prohibiting it is not for a fair campaign."
In a separate statement, Ejercito explained that he agreed with the 120-minute limit. He said he does not have much funds to buy "expensive airtime." He is running under the opposition United Nationalist Alliance (UNA).
"I just hope that the recent decision of the Supreme Court shall not be abused by the administration party. Let it be noted that all senatorial candidates have a maximum spending limit of approximately P150 million."
He added, "I hope those with a lot of funds will not abuse this decision. That will put us in UNA at a disadvantage because we lack funds."
'Changing rules in middle of game'
Zambales Rep Milagros "Mitos" Magsaysay echoed Ejercito.
In a phone interview with Rappler, Magsaysay said, "[The decision favors] only the rich candidates who can afford to spend plus the administration candidates. It's a well-known fact that if you're an administration candidate, you can download funds to spend it on your campaign."
In a statement, Magsaysay also questioned the timing of the release of the court's decision. The order comes less than a month before the May 13 elections.
"The imposition of airtime limits on political advertisements brought equality between the moneyed and the have-nots for those in the senatorial race. Why should the SC change the rules in the middle of the campaign? This would be very disadvantageous and unfair for those who are running with limited funds."
Comelec chairman Sixto Brillantes Jr questioned the timing of the SC decision, too. He said in an interview on ANC: "Our resolutions have been enforced for two months. Suddenly a TRO comes out, this is very unusual."
It is not only opposition candidates who questioned the decision. Administration Team PNoy candidate Sen Aquilino "Koko" Pimentel III also opposed the ruling.
In a text message to Rappler, Pimentel said, "Kakalungkot. Lamang na naman ang may pera." (It saddens me. Moneyed candidates again have the advantage.)
Petitioner Team PNoy bet Senate Minority Leader Alan Peter Cayetano hailed the decision, though, saying it will let voters in poor and rural areas have access to information about candidates.
Broadcast networks GMA-7, TV5, and the Kapisanan ng mga Brodkaster ng Pilipinas asked the Supreme Court for a temporary restraining order on the Comelec rule in February.
They argued that the limit is too "restrictive" and violates people's right to information.
In past elections, the Comelec under chairman Benjamin Abalos Sr imposed a more liberal interpretation of the law - 120 minutes per TV station, and 180 minutes per radio station.
Yet the Comelec under Brillantes sought to revert to the original interpretation of the law, aiming to "stick to the spirit" of the Fair Elections Act and set equal airtime for all candidates.
Like many Senate bets, Brillantes questioned the ruling, even saying he is considering resigning because of this and other Supreme Court decisions that undermine reforms the poll body aims to initiate. – Rappler.com