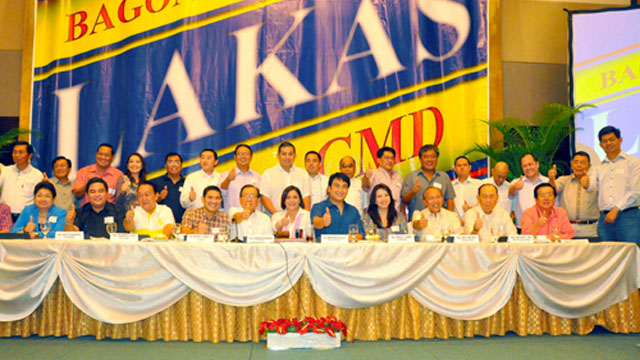 MANILA, Philippines - The erstwhile ruling party Lakas-Christian Muslim Democrats (Lakas-CMD) on Wednesday, April 17, announced their support for the candidacies of 4 more senatorial candidates -- two from the United Nationalist Allliance (UNA), one from Team PNoy and one independent candidate, in addition to endorsements announced earlier.
They are:
The party is now endorsing a total of 10 candidates at the national level -- 6 bets from UNA, 3 from Team PNoy and 1 independent candidate.
The last two slots will depend on the decision of Lakas-CMD members at the local level, Lakas president Leyte Rep Martin Romualdez said in a press conference. The party, however, "strongly recommends" the following candidates for the last two slots: Sen Loren Legarda (Team PNoy), Margarita
Cojuangco (UNA), Ernesto Maceda (UNA) and Miguel Zubiri (UNA).
San Juan Rep JV Ejercito (UNA);
Cagayan Rep Jack Enrile (UNA);
Zambales Rep Mitos Magsaysay (UNA);
Sen Gringo Honasan (UNA);
Aurora Rep Juan Edgardo "Sonny" Angara (Team PNoy);
Former censors chief Grace Poe (Team PNoy)
Despite losing its ruling party status after the 2010 elections, Lakas-CMD still holds a considerable membership base at the local level. It has
25 congressional, 8 gubernatorial, and 109 mayoral candidates running in May. (Political party profile: Lakas-CMD: Relevant for how long?)
In February, Sen Bong Revilla took over as party chairman while Romualdez was elected party president.
Lakas-CMD is the political party of former president and now Pampanga Rep Gloria Macapagal-Arroyo, who is running for re-election. - Rappler.com