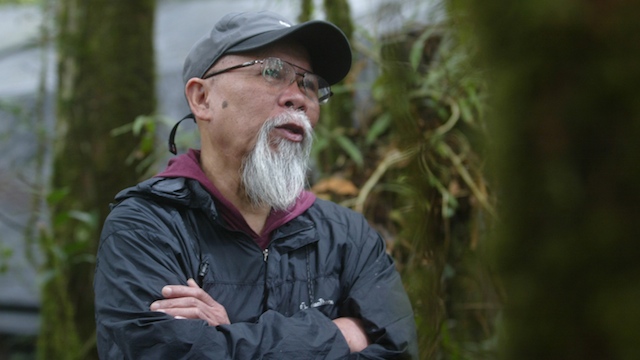 STILL FIGHTING. Jorge Madlos, NPA regional spokesman in Mindanao in a file photo by Keith Bacongco
MANILA, Philippines - Philippine communist rebels warned politicians Monday, April 22, to seek their permission before campaigning in the insurgents' strongholds following an ambush that wounded a town mayor and killed two of her aides.
The New People's Army (NPA) launched an attack with grenade launchers on a convoy carrying Ruthie Guingona, the 78-year-old mayor of Gingoog on Saturday, April 20, killing two of her aides and leaving her and two policemen wounded. She's the mother of Sen Teofisto Guingona III and wife of former Vice President Teofisto Guingona Jr.
Gingoog lies in a remote, mountainous area in the southern island of Mindanao where the rebel group has been fighting the government since 1969.
Jorge Madlos, a spokesman for the NPA, told AFP it would continue to man checkpoints to "impose revolutionary policies" on candidates for the May 13 local elections.
"They should secure permission and coordinate with our local forces when entering our area, and they should also not have armed escorts," he added.
On April 18, the NPA announced it has intensified checkpoint operations in its territories to "ensure peaceful conduct of elections." (Read: NPA intensifies checkpoints ahead of polls)
Rebel rules
"Candidates must coordinate closely with the concerned territorial command of each area and observe the revolutionary policies," said Alan Juanito, spokesman of NPA's North Central Mindanao Regional Operations Command.
These policies, according to him, include:
Prohibiting traditional politicians' vote buying, fraud and terrorism;
Prohibiting the use of firearms and armed escorts;
Strict prohibition of the use of the electoral campaign as a front for intelligence operations aimed at spying on the activities of the NPA and revolutionary mass organizations;
Ensuring that poor voters will not be intimidated or pressured by politicians.
Madlos said Saturday's ambush was unfortunate, but stressed that Guingona, a member of President Benigno Aquino's ruling party, had been previously warned that entering rebel areas with armed escorts could touch off violence. (Read: NPA apologizes for hurting Guingonga)
"Our fighters are calling politicians on the phone to inform them we are serious in implementing our policy," Madlos said.
"They are free to campaign in our areas, but they should first coordinate with us."
Extortion
The military has accused the communist guerrillas of extorting money from politicians in exchange for letting them campaign.
The NPA is the armed wing of the underground Communist Party of the Philippines, which has been fighting the government since 1969. (CPP: 44 years of guerrilla warfare)
The military estimates it has about 4,000 fighters nationwide, down from more than 26,000 at its peak in the 1980s.
The attack came less than a month before local elections in May, when more than 18,000 posts are at stake, from town mayors and governors to members of congress.
In 2011, the military said the rebels earned at estimated P300 million pesos (US$7.3 million) in illegal "revolutionary taxes" collected from individuals and businesses. - with reports from Agence France-Presse/Rappler.com