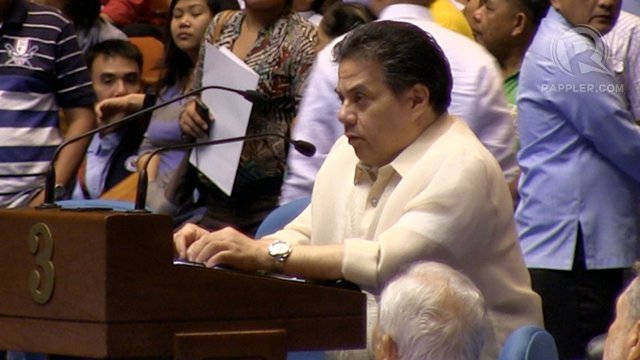 Negros Occidental 1st Dist Rep. Julio Ledesma IV. Rappler file/ Carmela Fonbuena
BACOLOD CITY, Philippines - A lawyer is now in hot water for filing a petition in court seeking to declare Rep. Julio Ledesma IV (1st district, Negros Occ.) incompetent.
Lawyer Epifanio Liberal Jr. filed a petition at the San Carlos Regional Trial Court against Ledesma to judicially declare him of "unsound mind who cannot, without outside aid, take care of himself and manage his property, thereby making the latter easy target for deceit and exploitation."
In his petition, the lawyer claimed that the physical and mental incapacity of Ledesma became apparent to him sometime in 2011. He cited the lawmaker's alleged indiscernible and incoherent speech, hand gestures, and body language, among others, as basis for his petition.
Dan Pondevilla, counsel of Ledesma, said the petition smacks of "black propaganda" hatched by Ledesma's political rivals. Ledesma's allies dropped hints that Liberal is merely being used by Ledesma's political opponents.
Nehemias de la Cruz, a former mayor of Don Salvador Benedicto and provincial board member, is challenging Ledesma in the 1st district congressional race. His wife, Don Salvador Benedicto town Vice Mayor Cynthia de la Cruz, stood as among the wedding sponsors of Ledesma and movie actress Assunta de Rossi almost a decade ago.
Ledesma supports the gubernatorial bid of Vice Governor Genaro Alvarez Jr, while de la Cruz is an ally and supporter of reelectionist Governor Alfredo Marañon Jr.
"It is the petitioner who is not in his right mind. No lawyer in his right mind would file a case without bases, much more without documentary evidence," Pondevilla said, stressing that the representative will not tolerate dirty tactics.
Pondevilla said they will file a civil case for damages, criminal case for perjury and a disbarment case against Liberal before the Supreme Court within the week. Liberal is running for councilor of San Carlos City.
Former San Carlos Mayor Eugenio Jose Lacson, an ally of Ledesma and vice gubernatorial candidate of Alvarez, called the move a political gimmick. "I am surprised at Liberal that he filed such a petition…it is the first time I have encountered such a gimmick," Lacson said.
Contrary to claims, Lacson said Ledesma is healthy and mentally sharp. He has joined the campaign sorties of the Nationalist People's Coalition in the 1st district, Lacson noted.
Pondevilla said that it is sad that Liberal allowed himself to be used by politicians. Liberal, however, said he filed the petition as part of his civic duty as a concerned citizen and voter.
The Negros Occidental 1st district comprises the cities of Escalante and San Carlos, as well as municipalities of Toboso, Calatrava and Don Salvador Benedicto, which is the bailiwick of Ledesma. - Rappler.com