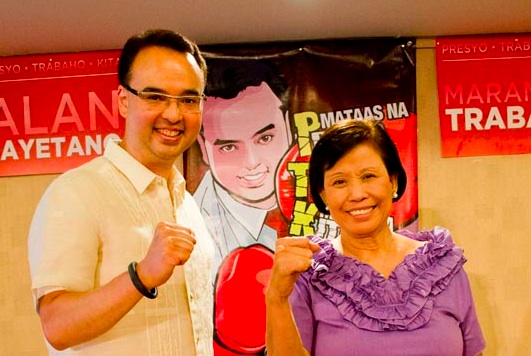 LUCKY CHARM. That's how re-electionist Senator Alan Cayetano calls movie producer Mother Lily Monteverde.
MANILA, Phiippines – Is Senator Alan Peter Cayetano presidential material?
Movie producer Lily Monteverde, fondly called "Mother Lily" in the entertainment industry, believes so.
In endorsing Cayetano's re-election bid before entertainment writers on Tuesday, April 23, the movie matriarch introduced him, "He is our next president!"
Monteverde, who has helped candidates in the past by enjoining the entertainment press to write about them, also supported Cayetano in the 2007 senatorial race.
Back then, she said she "had found a son" in Cayetano. The candidate, for his part, said he is close to Monteverde and called her his "lucky charm."
Reacting to her statement, Cayetano said, "The presidency is a matter of destiny." If the opportunity to seek the highest post presents itself in 2016, he said he "will consult Mother Lily because she is a good judge of character."
Monteverde praised Cayetano's advocacy of PTK or Presyo, Trabaho and Kita (lower prices, more jobs, and higher salary), and called Cayetano "a good man" and an "asset in the Senate."
Cayetano said his platform will benefit all Filipinos, including the movie industry. "An increase in purchasing power will lead to a renaissance of Philippine cinema."
Cayetano, who is a Nacionalista member running under the coalition of the administration Team PNoy, is the brother of director Lino Cayetano.
In the most recent Social Weather Stations survey, Cayetano was ranked 2nd, behind only perennial top-ranked senator Loren Legarda. Most politicians who are eyeing the presidency in future elections are expected to aim at topping the senatorial race to gauge their popularity. – Rappler.com