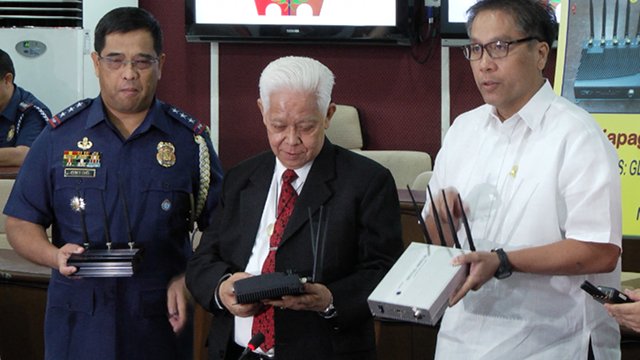 REPORT JAMMERS. Commission on Elections chairman Sixto Brillantes and Interior Secretary Mar Roxas show the public different models of signal jammers. Photo by Rappler/Naoki Mengua.
MANILA, Philippines - They look like wifi routers but they can compromise the credibility of the 2013 elections.
The Department of Interior and Local Government (DILG), Commission on Elections (Comelec), and the National Telecommunications Commission (NTC) has launched a multi-agency campaign appealing to the public to report any sightings of signal jammers, or anybody in possession of the devices.
Signal jammers, which may vary in size, effectively block cellphone and wifi connections within 10-20 meters. Government agenices fear it may be used to deliberately interfere with the transmission of results on election day.
"The use of these is illegal on the day of the elections. It is better we are all alert and guarding this rather not telling the public about it," Interior Secretary Mar Roxas told media in a press conference on Thursday, April 25.
"We're a little more than two weeks from the elections. We really want honesty, orderly and peaceful elections. This is part of our efforts to avoid trouble and controversy."
Possession is a crime
NTC Commissioner Gamaliel Cordoba clarified, however, signal jammers are not only illegal on election day; mere possession constitutes a crime. He said the NTC has not released any permits for ownership or importation of the device, so all who own signal jammers possess smuggled items -- which is punishable by law and imprisonment of up to two years.
Aside from the crime of owning a smuggled item, Comelec Commissioner Sixto Brillantes reminded the public, interference with the transmission of results is an electoral offense which can warrant a penalty of 8-12 years. Violators are not entitled to parole, will be permanently disqualified from holding public office, and will lose the right to vote.
"This is warning to all those using this. It won't be hard to prove if you're holding or in possession of a jammer and you are within the vicinity of the election centers, it will be strong evidence against you," he said.
Signal jammers come in various forms, but their most distinguishing characteristic is 4 antennas -- although even these are absent in some models. Jammers are easy to operate according to Roxas, with most needing a power source either through an outlet or even the lighters in cars, while still others are battery-operated.
Consequences
The 3 agencies collectively decided to notify the public to ask for help, because the NTC has no records of how many there are in the country, since they were illegally imported, most likely from China, according to Cordoba.
Roxas said he had a civilian staff member roam the city to look for jammers. His staff came home with 4 jammers, shelling out only P30,000. He said this was proof they are relatively affordable and available.
Together, the agencies have set up a 24/7 hotline to receive calls or reports about the presence of jammers. The Comelec said it has yet to receive any reports, but is primarily concerned with how these jammers can delay election results.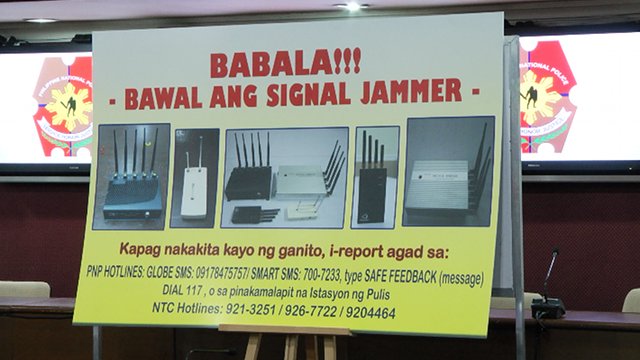 WARNING. A poster asking the public to report sightings of signal jammers, including the numbers they can call or text. Photo by Rappler/Naoki Mengua
"If they jam transmission, we're not saying we won't get [the results]. But they will be delayed. We have alternative remedies but it will be late," Brillantes said. "As soon as voting is finished, our goal is it will be transmitted right away. We expect in 48 hours, we will proclaim winners in local areas. But if jammers are used, they will be delayed and there may be doubts over the results."
Brillantes estimated about 1-2 days of delay if jammers are employed. Among the remedies they have in the event the votes cannot be transmitted directly from Precinct Count Optical Scan (PCOS) machines, is the manual transmission to the municipal board of CF cards used by the PCOS.
But he was optimistic jammers would not affect actual results of the elections.
"The transmission won't be stopped [but delayed]. Instead of electronic, it will be manually delivered. We will also have 30 hard copies of election returns," he said.
The Philippine National Police (PNP) said they will have assistance desks in every polling center manned by members of the PNP and the Armed Forces of the Philippines. They have been instructed to be on the lookout for items like these. Checkpoints will also be set up to keep an eye out for these gadgets.
Cordoba urged the public to immediately report to the Help Desks in their election precincts if they notice their cellphones losing signals.
Comelec assurances
The NTC pledged to immediately investigate areas that lose signal on election day. They emphasized however, jammers may only be one source of transmission delays.
On the same day the National Citizens' Movement for Free Elections (NAMFREL) aired concerns about the reliabiity of PCOS machines "to initialize, operate and transmit the results on election day," Brillantes admitted precincts may have difficulty transmitting results electronically. But as with jammers, he gave assurances the Comelec has contingency plans for transmission at the very least.
In parts of Mindanao, for instance, where power outages are common, he said they have deployed extra generators for the evening canvas, and have been in touch with the Department of Energy to make sure electricity is uninterrupted.
"We expect power problems but we now know where to deploy security," he said.
Cordoba also said they have been constantly in touch with telecommunication companies, which have been assisting them since the 2010 elections. He said PNP and AFP will guard cell sites in the field, and in places without telecommunications providers, results will be transmitted via satellite.
"We are covering the whole Philippines," he said. - Rappler.com