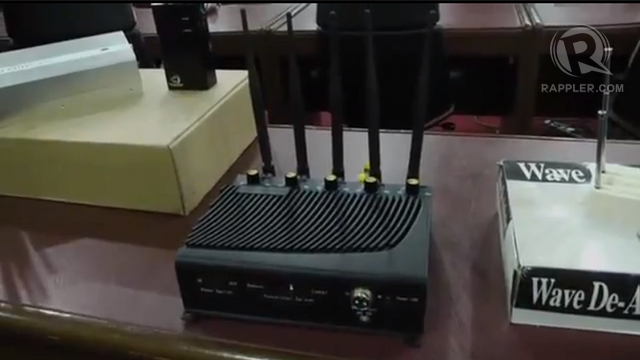 ILLEGAL DEVICES. This is what a signal jammer looks like. File photo by Rappler
MANILA, Philippines – Signal jammers threaten the quick transmission of election results, which deters fraud during long intervals between the casting and counting of votes.
How can we spot a signal jammer? What can we expect from the Commission on Elections (Comelec) if signal jammers hamper the transmission process?
Rappler presents information from top officials, as well as relevant laws, in the frequently asked questions (FAQs) below.
What does a signal jammer look like?
Most signal jammers come with 4 antennas, but some models appear in various forms. Such devices vary in size.
In a press conference on Thursday, April 25, Interior Secretary Mar Roxas said most signal jammers require a power source through an outlet or even lighters in cars. Others need a battery to run.
It is illegal to possess these signal jammers.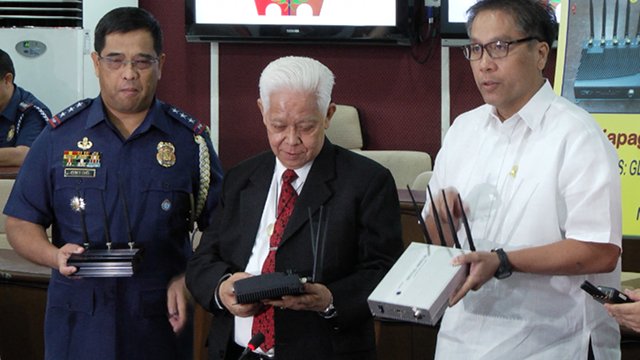 REPORT JAMMERS. Comelec chair Sixto Brillantes Jr and Interior Secretary Mar Roxas show the public different models of signal jammers. Photo by Rappler/Naoki Mengua.
What does a signal jammer do?
Signal jammers may block cellphone and wifi connections within 10 to 20 meters.
An average classroom – which is used as a polling precinct – measures 7 meters by 9 meters. This means a signal jammer can affect up to 3 classrooms beside each other.
How can signal jammers affect elections?
Signal jammers may delay the transmission of votes to the 3 main servers: the city or municipal board of canvassers server, the Comelec central server, and the transparency server, which is used by poll watchdogs and media groups.
The transmission of votes begins after the final ballot is cast, past 7 pm on election day.
On Thursday, Brillantes said jammers may delay the transmission by one or two days. "We expect in 48 hours, we will proclaim winners in local areas. But if jammers are used, they will be delayed and there may be doubts over the results."
What if there's a signal jammer in a precinct?
The board of election inspectors (BEI) should immediately call the technical support personnel if transmission fails 3 times, according to Comelec Resolution No. 9640, which details the instructions for the BEI.
Is it fine to try transmitting results more than 3 times? "We leave that to the discretion of the BEI," Brillantes told reporters on Friday, April 26.
What should the BEI do if transmission fails?
If, in the end, the BEI decides it is impossible to transmit results from their precinct, Brillantes said they should pull out the compact flash (CF) card from the PCOS machine. The CF card contains the election results.
Then, the BEI should bring the CF card to another precinct, to try to transmit results from that precinct's PCOS machine. Other personnel should accompany the BEI for security.
If transmission fails despite this, the BEI should transport the CF card straight to the city or municipal board of canvassers. (Watch more in the video below.)
Brillantes, however, said a hard copy of the election return (ER) should accompany the CF card if it is brought elsewhere. The BEI should have printed 30 copies of the ER in the original precinct.
How widespread is the problem with signal jammers?
Brillantes said the problem is "very minor," especially after the government publicized a crackdown on these illegal devices.
Election operators, however, can easily afford jammers. Brillantes himself admitted a pocket-size jammer costs only P3,000.
Roxas on Thursday said his staff, for surveillance purposes, bought 4 jammers for only P30,000.
What is the penalty for possessing or using signal jammers?
The Automated Election System (AES) Law, as amended by Republic Act (RA) No. 9369, makes it an election offense to interfere with or impede the transmission of election results. Violators will spend from 8 to 12 years in prison, without parole. He or she will also lose the right to run for public office or even to vote.
Brillantes, a veteran election lawyer before joining the Comelec, said regular election offenses carry a penalty of up to 6 years. He said the electronic nature of using signal jammers "makes it aggravating."
The E-Commerce Law, or RA No. 8792, also penalizes the "unauthorized access into or interference in" an information and communication system. The minimum fine is P100,000, along with a mandatory imprisonment of 6 months to 6 years.
Using a signal jammer to delay transmission, then, carries with it a "double penalty" from the AES Law and the E-Commerce Law, according to Brillantes.
What should the public do if they see signal jammers?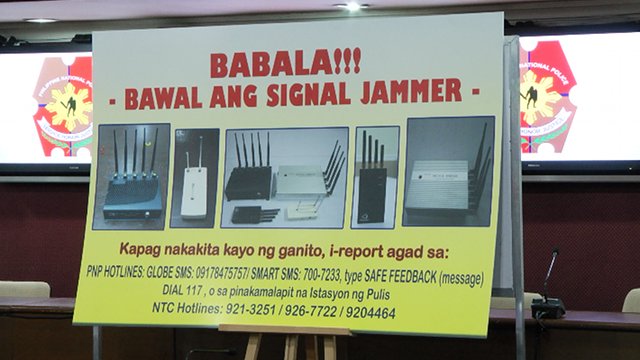 WARNING. A poster asking the public to report sightings of signal jammers, including the numbers they can call or text. Photo by Rappler/Naoki Mengua
The Philippine National Police advises the public to report these jammers by sending "SAFE FEEDBACK <message>" to the following numbers:
Globe: 0917-847-5757
Smart: 700-7233
The public may also report this through landline, by dialing hotline 117, or by going to the nearest police station.
The National Telecommunications Commission also makes available the following hotlines: 921-3251, 926-7722, and 920-4464. – with reports from Natashya Gutierrez/Rappler.com
Visit #PHvote, Rappler's coverage of the 2013 Philippine elections. Get to know the candidates through our comprehensive profile pages.
Share this page and pledge to #votesmart by clicking on the button below.
---
More from Rappler's 2013 Philippine elections coverage: