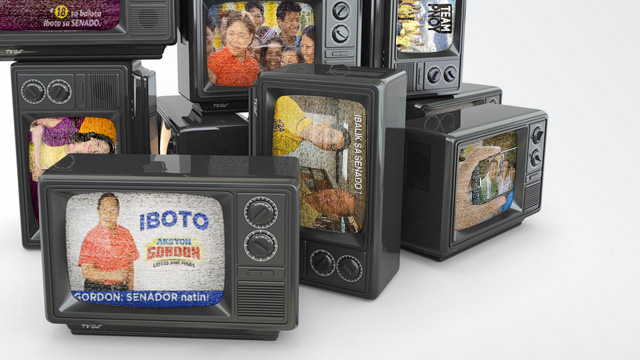 MANILA, Philippines - Television advertisements are voters' biggest source of information and news about senatorial candidates for the coming May 2013 elections, according to a new Pulse Asia survey obtained by Rappler.
Most of the respondents, representing 85% of voters nationwide, get information from TV ads. The rates are highest among voters in the National Capital Region (NCR) and the Visayas, where 90% of voters say it is their source of information.
Among socio-economic classes, it's highest among the ABC crowd (94%).
Survey respondents were allowed to choose as many sources of information from a list. The survey was conducted from April 20 to April 22. The error margin is 2.3 points.
Posters and other campaign paraphernalias is a far second, with 31% of voters saying it is also a source of information on the candidates. It is highest among voters in the Visayas, where 39% said they depend on these materials for information.
The same percentage of respondents -- 22% -- said they get information from radio ads and from TV news programs.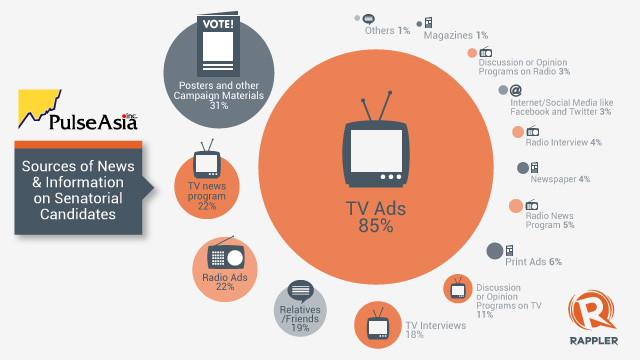 The Internet and the social media is a source of information for 3% of the voting population. It's highest in NCR, where 7% said it is a source of information. It is a big jump from the January survey, where 2% of voters cited it as source of information on candidates.
Among ABC voters, 9% said the Interent is a source of information. It was only 3% in January.
There are fewer political ads running on TV now because the Commission on Elections (Comelec) has limited the airtime of senatorial candidates from 120 minutes per TV station to 120 minutes total for all TV stations. Re-electionist Sen Alan Cayetano is among those who questioned it before the Supreme Court.
The High Court issued a TRO on the Comelec's airtime rules, but in the absence of a final ruling, Brillantes warned candidates against exceeding the limits that are in place. - Rappler.com
Stacked TV image via Shutterstock