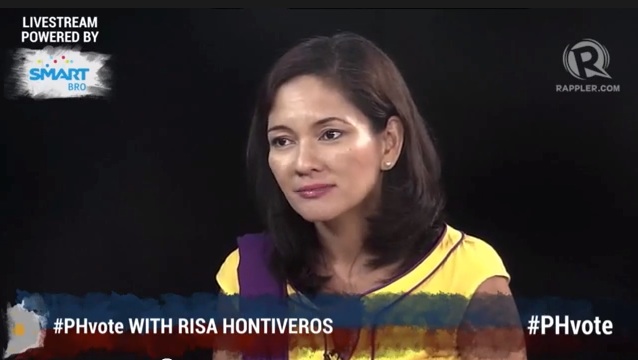 MANILA, Philippines -- Campaigns are now in the homestretch but weeks after the election period began, some of Team PNoy senatorial candidate Risa Hontiveros' image makers wanted to capitalize on her being a nanay (mother).
It's an attempt to soften her image as a fighter, but Hontiveros turned it down.
After she did, the image makers apparently pitched the same to another candidate who picked it up. United Nationalist Alliance senatorial candidate Nancy Binay adopted the campaign slogan "Nanay de pamilya ng Senado (Mother of the family in the Senate). "
In an interview on Rappler's #TalkThursday, Hontiveros explained why she said no to the nanay brand.
"Perhaps I chose an even broader identity - being a woman. Of course, as a woman, I myself am a mom. I have 4 kids and I'm raising them as a solo mom and it has been a way for me to really touch base because there are lots of solo moms in our country," she said in a mix of English and Filipino. "At the same time, not all women are mothers but all of us have mothers and we have a nurturing nature. That is captured by 'Aalagaan ka' (You will be taken care of)."
After turning down the campaign strategy proposal, Hontiveros went with the slogan "Ipaglalaban ka, Aalagaan ka."
Hontiveros said she wanted to stay true to her image as babaeng palaban or strong woman. (Read: Risa Hontiveros' profile)
"I wanted to stay faithful to that, to how people know me, to who I really am. I wanted to speak with them with this voice. I wanted to be present with this face or this persona," she said.
Hontiveros recently broke into the winning circle in the latest Pulse Asia survey after hovering around the 17th to 20th place in past surveys. Binay, on the other hand, has consistently been included in the Top 12.
But pollsters say it's going to be a tight race to the finish line. (Read: Pinoys only have 7 bets so far)
Could Binay's good survey position be attributed to the branding that Hontiveros turned down?
Hontiveros doesn't think so. She said she believes it's due to the popularity of the Binay surname and how voters associate the it with the delivery of services. The Binays are known for providing health and education benefits to residents of Makati, where Nancy's brother, Junjun Binay presently sits as mayor, she noted. Junjun succeeded his father, Vice President Jejomar Binay.
Hontiveros and Binay were pitted against each other after a meme titled "Pilipinas, Anyare," which compared their credentials went viral on the Internet.
Hontiveros challenged Binay to a debate but Binay declined.
This is Hontiveros' second crack at the Senate. In 2010, she finished 13th, a total of 900,000 votes shy of clinching a Senate seat. - Rappler.com