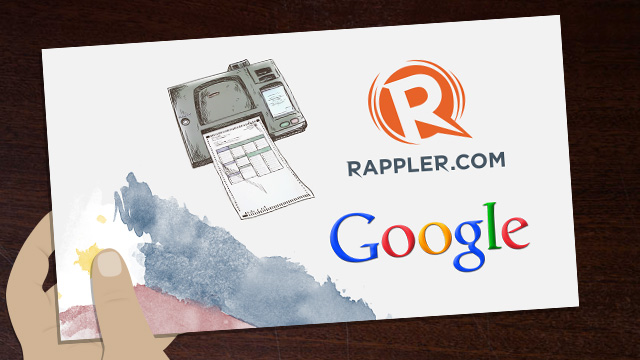 MANILA, Philippines - Rappler is one of 8 news organizations partnered with Google Philippines for its coverage of the 2013 Midterm elections. The search giant launched its elections portal on Thursday, May 2. The elections hub can be found on the web at google.com.ph/elections and contains news and video from Rappler.
According to Google Philippines Communications Manager Gail Tan, "This effort merges traditional with new media and revolutionizes how election information is shared online."
Rappler Managing Editor Glenda Gloria says, "Google's push to aggregate information and reportage from various prestigious news organizations is a step towards increasing the ability of prospective voters to be informed, aware, and ready for the polls. Rappler is proud to play its part in providing Filipinos with the necessary information and tools to make a smart vote."
Content from broadcast networks ABS-CBN, GMA, SolarTV and PTV and online news portals Inquirer.net, Interaksyon.com and PhilStar.com are also aggregated.
Google's elections page also includes online tools for voters.
A lookup tool allows users to type in their city or municipality to look up candidates, including those running for Senate and those running in their towns or cities, provinces and congressional districts.
Google's Precinct Finder gives users the ability to look up voting centers based on city, region and the voter's precinct number. Precinct locations will be made available on Google Maps before election day, allowing users to print out maps of their precinct locations before heading to the polls.
The portal also includes a section where users can discuss issues or exchange views with Rappler's roster of reporters and its social media team via Google Hangouts.
Rappler has scheduled 3 Google Hangouts for #PHvote 2013.
Why care about 2013?
May 12, 2013 / 4-5pm

Hours before polls open, you wonder: why the fuss over the 2013 elections? Rappler's political reporters and youth voters sound off. Why should you care about the 2013 mid-term elections?


PHvote 2013: The morning after


May 13, 2013 / 10-11am





The posters are down, the jingles have (mercifully) stopped playing, and the results are out. Congratulations, you've survived the 2013 elections! Now that it's (almost) over, let's take a look at the highs and lows of the 2013 midterm elections.
To sign up to join any of these hangouts fill up this online form. You'll need a Google+ account, a computer with a web camera, earphones and mic, and a decent Internet connection.
For Rappler's full coverage of the 2013 Elections visit our #PHvote microsite. Don't vote based on your emotions. Get to know each of the candidates, their track records and what they stand for. Then join our mock polls and tell us who you are voting for.

You can also follow Rappler on Google+ and add us to one of your circles. - Rappler.com
Share this page and pledge to #votesmart by clicking on the button below.
---
More from Rappler's 2013 Philippine elections coverage: