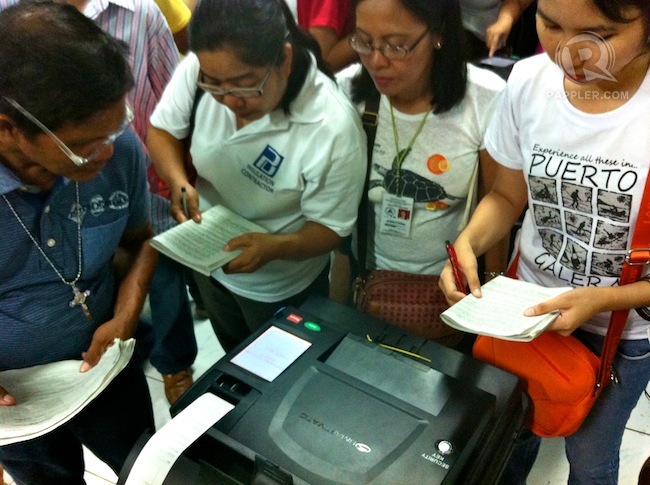 Rappler/Ace Tamayo
MANILA, Philippines - Teachers from the Fairview Elementary School in Quezon City claimed that they had limited training in operating and assembling PCOS machines as they prepare for the upcoming elections next Monday, May 13.
During the final testing and sealing (FTS) of the PCOS machines in Quezon City Monday, May 6, the teachers, together with the PCOS technical support team, experienced a slight delay as the teachers did not know how to assemble the back-up battery of the machine. The back-up battery will be used to operate the machine in case of power shortage during the elections.
Using their mobile phones, the teachers took videos as the PCOS technical support team explained how to assemble and connect the battery to the machine.
Leonida Morales, one of the teachers, said they were not taught how to assemble and operate the battery during their training.
"The PCOS machines were already assembled when they trained us so we did not get a chance to assemble them out from its box," she said.
Morales, together with other teachers at the Fairview Elementary School, recalled how they only had one day of training and another day for a written and practical exam.
They said that during their training day, they were given general election instructions during the morning and PCOS machine training in the afternoon. The next day, they took a written and a hands-on practical exam that the teachers had to pass for an issuance of a supervising certification.
Jo Daet said he only had one chance to operate the PCOS machine and it was during his hands-on exam. Daet said there were around 6 to 10 teachers per PCOS machine during his training and only one teacher got a chance to operate it as others just observed.
Three PCOS support technicians were present at the Fairview Elementary School today as they tested 16 PCOS machines with the supervising teachers. Only minor glitches were encountered due to human error.
The Comelec is set to pay P3,000 for each supervising teacher during the election, P1,000 for the FTS of the PCOS machines, and a one-time transportation allowance. - Rappler.com