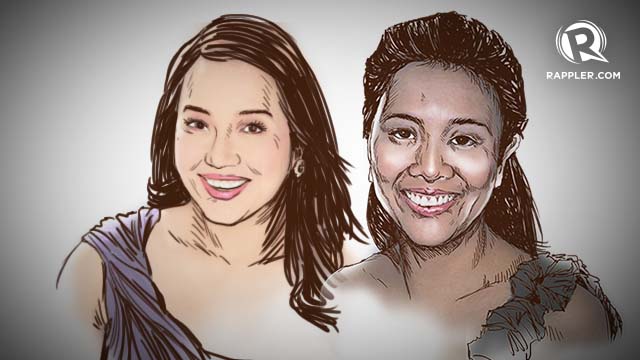 MANILA, Philippines – Brown? More like black.
Vice President Jejomar Binay's daughter, Nancy, was in a joking mood while campaigning in Camarines Norte on Monday, May 6.
Asked about comments that she is the "browner version" of presidential sister Kris Aquino, a laughing Nancy told the reporter, "Huy sobra ka naman! Blacker, blacker. At this point, hindi na brown eh. Black na, kaya blacker." (Blacker, blacker. At this point, my skin is not brown anymore. It's black, that's why blacker.)
Taunted on social media about her looks, Nancy has shrugged off the criticism and proudly shows her "black" skin as proof that she and fellow United Nationalist Alliance (UNA) bets have been campaigning hard under the sun. (READ: Profile of Nancy Binay)
Nancy was asked about Kris, who has been campaigning for some administration senatorial candidates and UNA local candidates in Nancy's hometown, Makati.
Asked if Kris will also endorse her, Nancy mimicked Kris's voice and said, "No comment."
The Queen of All Media is supporting Nancy's brother, Makati Mayor Junjun Binay.
"Junjun Binay is my very good friend. I campaigned for him as mayor because nobody from Team PNoy ran for mayor in Makati," Kris said in a press conference last week.
Will she also support Nancy?
"Out of respect for my brother I won't answer that and in the interest of telling the truth, I also won't answer that," Kris said.
In the 2010 elections, it was widely reported that Kris secretly worked for a Noy-Bi campaign, supporting Nancy's father, Jejomar Binay, for vice president, instead of Noynoy Aquino's running mate, Mar Roxas. – Rappler.com

Visit #PHvote, Rappler's coverage of the 2013 Philippine elections.

Get to know the candidates through our comprehensive profile pages and help spread the word about these candidates by answering our poll.
Check out our fun timeline to find interesting trivia on the candidates.
Help us monitor violence & vote buying! Report them through #VoteWatch and our tool will automatically map your report.
Share this page and pledge to #votesmart by clicking on the button below.
---
More from Rappler's 2013 Philippine elections coverage: