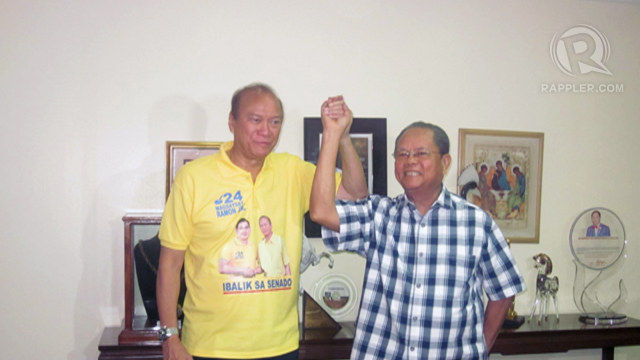 SIGNIFICANT STRENGTH. Bro. Mike Velarde formally endorses Jun Magsaysay Jr. and Bam Aquino. Photo by Rappler/Jodesz Gavilan
MANILA, Philippines – The Catholic charismatic El Shaddai Movement completed on Tuesday, May 7, the list of senatorial candidates it is endorsing by picking Ramon Magsaysay Jr. and Bam Aquino, both from the administration's Team PNoy.
Brother Mike Velarde, founder of El Shaddai, said Magsaysay, a former senator, met his organization's 3C criteria: commitment, conscience, and competence.
The religious leader also expressed his admiration for the candidate's father, saying he idolizes the late President Ramon Magsaysay.
Magsaysay Jr. accepted the endorsement, saying it will be a big boost to his campaign.
"As he endorsed Bam Aquino and myself, it's a very significant strength added to our legions of supporters all over the country," Magsaysay said.
White Vote
El Shaddai is the lead group in the White Vote movement, which has endorsed senatorial bets who, to them, are pro-life and pro-family. The movement earlier named 10 candidates who opposed the reproductive health bill.
The selection was determined based on a set of standards called LASER or lifestyle, action, supporters, election activities, and reputation.
In a statement released by the White Vote movement, the 10 other candidates are JV Ejercito, Gregorio Honasan, Mitos Magsaysay, Cynthia Villar, Antonio Trillanes IV, Koko Pimentel, Nancy Binay, Richard Gordon, Marwil Llasos, and Miguel Zubiri.
According to Velarde, the decision on who completes the list was agreed upon by the movement.
"Kasi may sampu na na-endorse ang White Vote movement. Dumaan sa proseso iyon. May agreement kami na kapag may kulang, pwede ako magdagdag with their clearance (The White Vote movement has already endorsed 10 candidates and they all underwent a process. There's an agreement among us that I can fill in the remaining slots if the need arises.)," Velarde said.
When asked if he's nervous with only one week to go before May 13, Magsaysay stood firm on his reason why he's running.
"Hindi ako kinakabahan kasi ang aking reason for running is for public service… Sabi nga eh, nasa tao 'yan. I will accept either way. Without fear, without anxiety, because I just want to help the Filipino people (I am not nervous because the only reason why I'm running is for public service. I will accept because it's all up to the people. I will accept either way – without fear, without anxiety – because I just want to help the Filipino people)," Magsaysay said. – Rappler.com
---
More from Rappler's 2013 Philippine elections coverage: