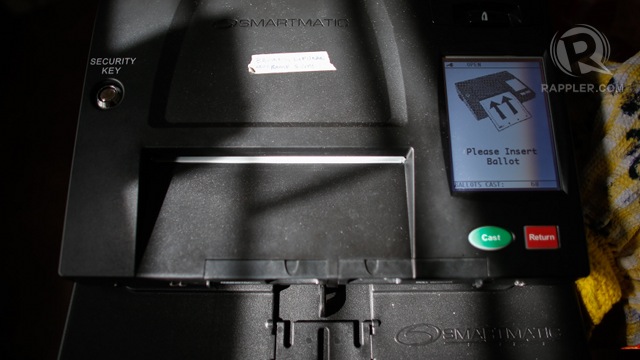 PCOS CODE. The source code review begins Thursday, says poll chief Sixto Brillantes Jr. File photo by John Javellana
MANILA, Philippines – The Commission on Elections (Comelec) will open the source code of ballot counting machines for a review by local groups on Thursday, May 9, poll chief Sixto Brillantes Jr said.
Brillantes made this announcement during oral arguments at the Supreme Court (SC) on Wednesday, May 8.
He appeared before the high court because of a petition filed by senatorial bet Richard Gordon. Gordon wants the SC to compel the Comelec to open the PCOS source code for a review by local groups.
Brillantes even invited Gordon to the source code review.
On Thursday, it will be the first time that local groups can review the PCOS source code. Watchdogs have requested for a PCOS source code review even before the 2010 elections, the Philippines' first automated polls.
"We have done everything we can to get the source code," Brillantes said during the SC hearing.
Brillantes, however, noted that another source code has been in Comelec's custody, even before it got hold of the PCOS source code. This is the source code for the consolidated canvassing system (CCS), the code that runs the canvassing of votes.
Earlier, Brillantes said the review of the 2013 PCOS source code will clear credibility issues over elections.
The Comelec will hold the review after the source code was held hostage by a legal battle. The US-based Dominion Voting Systems had prohibited the release of the PCOS source code, which it owns, for a local review because of a case against the Venezuelan firm Smartmatic.
It was Smartmatic that sold the PCOS machines to the Philippines. – Rappler.com