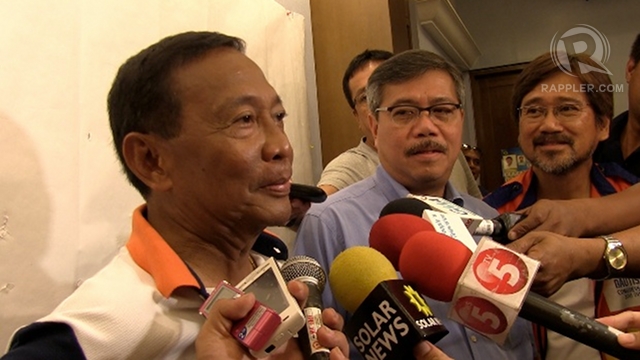 TOUGH POSITION. Cabanatuan City Mayor Jay Vergara (middle), President Aquino's party mate and classmate, says he is an LP member but pledges support for Nancy Binay and other UNA bets. Photo by Rappler/Ayee Macaraig
CABANATUAN CITY, Philippines – Another partymate and classmate of President Benigno Aquino III expressed support for some opposition candidates.
Cabanatuan City Mayor Julius Cesar "Jay" Vergara vowed to support some bets of the United Nationalist Alliance (UNA).
While receiving Vice President Jejomar Binay and UNA candidates at the Cabanatuan City Hall, Vergara told reporters he is supporting his daughter Nancy Binay.
UNA campaigned in Nueva Ecija on Wednesday, May 8.
"Hindi ito bola. Ako'y nalagay nga sa alanganin sa bagay na ito, pero I have seen Nancy Binay two years ago. I thought it was wise [to support her]," Vergara said while standing next to the Vice President. (This is not flattery. I'm in a tough position on this matter.)
Vergara added he is supporting Nancy not because of her father. "I chose Nancy Binay because I honestly think that Nancy is really going to work for the Senate."
Opposition stronghold
Besides Nancy, Vergara said he is supporting UNA 3rd district congressional candidate for Nueva Ecija JV Bautista, who is also UNA's spokesperson.
Vergara also said that former Sen Richard Gordon will likely win in Cabanatuan because he helped the city after an earthquake in 1990. He said Sen Gregorio Honasan II is also doing well in the city.
Explaining his stand, Vergara said, "Traditionally, the opposition is strong here. I'm a Liberal Party member, mind you, since 1998 but I am a realist because it is best for people to know."
UNA stalwarts Joseph Estrada and Binay topped the presidential and vice presidential elections in Nueva Ecija in 2010. In 1998, when Estrada first ran for president and won, he also led in this province.
Asked about a possible backlash from LP, Vergara said, "There is that concern, but the only thing they will tell me is leave as a Liberal or go straight. Me, I talk to people straight."
Vergara's support for some UNA bets comes after Albay Gov Joey Salceda of LP also expressed support for the candidacy of resigned Sen Juan Miguel Zubiri and San Juan Rep JV Ejercito. - Rappler.com

Visit #PHvote, Rappler's coverage of the 2013 Philippine elections.

Get to know the candidates through our comprehensive profile pages and help spread the word about these candidates by answering our poll.
Check out our fun timeline to find interesting trivia on the candidates.
Help us monitor violence & vote buying! Report them through #VoteWatch and our tool will automatically map your report.
Share this page and pledge to #votesmart by clicking on the button below.
---
More from Rappler's 2013 Philippine elections coverage: