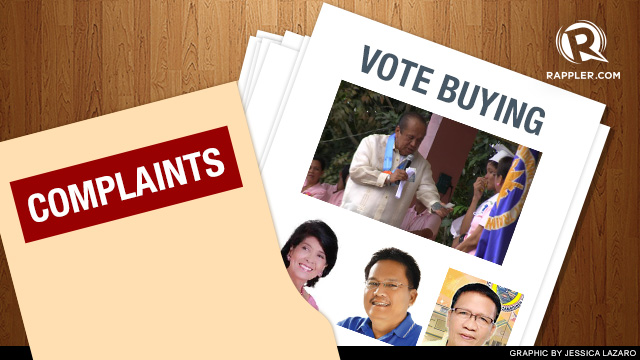 NAGA CITY, Philippines – Three witnesses filed an affidavit about alleged vote buying by the Villafuertes of Camarines Sur on Tuesday, May 7, at the assistant provincial prosecutor's office. Signed by assistant provincial prosecutor Melinda Ricafort, the document constitutes a complaint.
Virginia Borromeo-Blasa, 57 years old and a resident of the 3rd district of Camarines Sur, along with two other witnesses, filed the complaint. Blasa said that several envelopes containing money were distributed to the audience during a campaign sortie organized by local candidates of the Nationalist People's Coalition (NPC) on Monday, May 6.
"Hinakot ang mga botante gamit ang mga jeep," recalled Blasa. (They hauled voters using jeepneys.)
Blasa added that after the candidates gave speeches, someone announced, ""Tapos na ansatong pag klase asin graduation; makakua na kita nin diploma." (Classes are over. Graduation is over. You will now receive your diplomas.)
The "diplomas" contained P300 in cash, a membership card to the NPC, local candidates, and a sample ballot for corresponding NPC-supported candidates. She claimed to have received an envelope from Nelson Legaspi, an incumbent kagawad (barangay councilor).
According to an eyewitness, the alleged vote buying took place in the house of a local official, 3rd District Board Member candidate Nelson Julia in Bell, Casuray, Magarao, Camarines Sur. 3rd district Congressman Luis Villafuerte, who is running for governor, and his wife Nelly who is seeking a congressional seat, were present. Also present were Gil Basmayor, a candidate for vice-governor, and 8 other local candidates.
Rappler repeatedly tried to get Villafuerte's side but his phone was not within reach.
Affidavit
Blasa said in her affidavit, "Bago po nila binigay ang pera at mga campaign paraphernalias (sic) ng mga nasambit kong mga kandidato ay binigyan muna kami ng sample ballot at mag-aral daw po kami mag-shade ng mga iboboto namin na straight NPC mula taas hanggang sa baba ng sample ballot para panalo na silang lahat."
(Before those whom I mentioned gave the money and the campaign paraphernalia, we were given a sample ballot and told we should study how to shade those we are voting for from the NPC. We are supposed to vote straight NPC so that all of them will win.)
She also said, "Kung magboboto daw kami ng hindi nila ka line-up ay kaaway pa rin nila at hindi daw maganda kaya kailangan daw straight NPC at pagkatapos daw po namin matutong magshade ng mga kandidatong kaalyado nila ay gragraduate na daw kami at ibibigay na daw po sa aming yung diploma at yung sinasabi nilang diploma ay yun na pong sobreng puti na may laman na nagkakahalagang PHP300.00."
(If we don't vote for those in their line-up, we would be considered an enemy and it wouldn't be good that's why we should vote straight NPC. And after we learn how to shade the names of their allied candidates we will graduate and be given a diploma which is the white envelope containing P300.)
Not the first time
Blasa said she received a tip from a friend the day before the event was organized. She was asked by mayoral candidate Joel Abante to check it out. "I was angered by what I saw. This has been happening for the longest time. How can change happen for the better if vote buying continues to go unreported and unpunished -- as it has been for the past 22 years?"
Vote buying is a criminal but bailable offense.
Blasa is a member of Lakas ng Kababaihan, a women's group in the municipality of Canaman involved in Abante's campaign. Abante is running for mayor of the municipality of Canaman under the Liberal Party.
Blasa is determined to file charges even if some residents have asked her to drop the complaint. "Handa ako sa anumang mangyayari sa akin. Alam ko na nasa panig ako ng katotohanan at nasa panig ko ang Diyos." (I'm ready for whatever will happen to me. I know I am on the side of truth and God is on my side.)
Villafuerte is running to reclaim his seat as governor of Camarines Sur, the largest and most populous province in the Bicol Region. He was governor for 15 years from 1986 to 2004. His party, the NPC, is the dominant party in in his province.
Camarines Sur is one of the country's poorest provinces with 38.7% of families in the province living below the poverty line. – with a report by Raffy Magno/Rappler.com
A photocopy of the affidavit:
Visit #PHvote, Rappler's coverage of the 2013 Philippine elections.

Get to know the candidates through our comprehensive profile pages and help spread the word about these candidates by answering our poll.
Check out our fun timeline to find interesting trivia on the candidates.
Help us monitor violence & vote buying! Report them through #VoteWatch and our tool will automatically map your report.
Share this page and pledge to #votesmart by clicking on the button below.