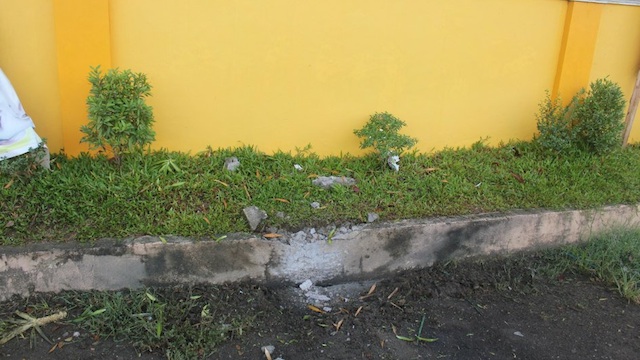 EXPLOSION SITE. The area where the improvised grenade exploded, just outside the Iloilo City home of former Justice chief Raul Gonzalez on May 9, 2013. Photo courtesy of Raul Gonzalez Jr's official page on Facebook
MANILA, Philippines (2nd UPDATE) - A grenade exploded at the Iloilo City residence of former Justice Secretary Raul Gonzalez early Thursday, May 9.
Unidentified people lobbed the explosive at Gonzalez's home in Barangay Quintin Salas, Jaro, Iloilo City, between 1:30 and 2 am, GMA News's dzBB radio reported.
"Last night (I think it was past midnight) I was suddenly awakened by a loud blast," Raul Gonzalez Jr said in a post on his official Facebook page.
"According to our people, it was a "dalugdog" (home-made or improvised grenade) and it damaged the plant box in front of our house in Brgy. Quintin Salas, Jaro," he posted.
Shrapnel and a safety lever of a M36A1 fragmentation grenade were found at the scene by police, radio dzMM reported.
The elder Gonzalez said the incident could be "political harrassment," since Raul Jr is running for congressman in Iloilo City's lone district.
Raul Jr is running under the United Nationalist Alliance (UNA) against Jerry Treñas of the Liberal Party.
No one was hurt in the incident. Police are now investigating the incident. - Rappler.com