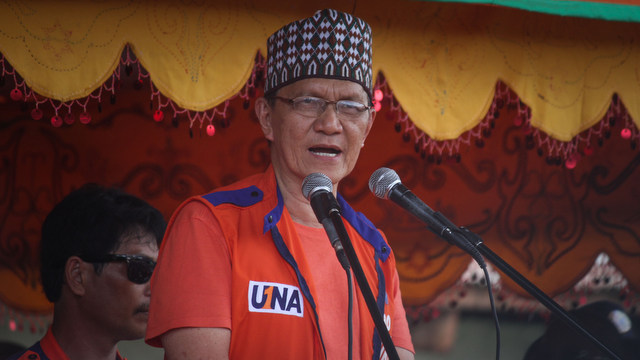 TIGHT RACE. Sultan Kudarat Mayor Tucao Mastura is running against incumbent Gov Toto Mangudadatu for governor of Maguindanao. File photo by Karlos Manlupig
SULTAN KUDARAT, Philippines – An opposition candidate running for governor in Maguindanao asked the government to investigate the wealth of his opponent in the race, like it did with Corona.
"I'm just wondering. When government officials investigated the wealth of former Supreme Court Chief Justice Renato Corona, in less than two months, a decision came out. He was removed from his post. Let's have transparent governance," Sultan Kudarat mayor and UNA bet for Maguindanao governor Tucao Mastura told reporters on Friday, May 10.
Mastura, 67 and brother of Moro Islamic Liberation Front senior peace panel member Michael Mastura, was referring to incumbent governor Esmael "Toto" Mangudadatu, the second richest governor -- after Andal Ampatuan -- in Mindanao.
Mangudadatu, 47, declared P390.6 million in his 2011 Statement of Assets, Liabilities, and Net worth (SALN).
"I'm a certified public accountant. If he acquired such assets to his parents, he should have paid inherited tax," noted Mastura, who declared around P11 million in his SALN.
Mangudadatu: All taxes paid
Mangudadatu however vehemently denied Mastura's claims and stressed he paid the necessary taxes to all the properties he declared.
"There's nothing wrong with that. I declared it in my SALN and I pay for the taxes. It even helps in the government's tax collection program," Mangudadatu said, insisting: "I did not get it from the people's money."
The incumbent also brushed off claims that he was behind the arrest warrants recently issued against supporters of Tucao in Maguindanao.
"The cases they were saying to the media are not new anymore. It's about the chainsaw massacre in the province," he said, referring to the November 2009 slaughter of 58 people -- including the wife, friends and relatives of Mangudadatu -- by goons allegedly led by Andal Ampatuan Jr., son of then Gov Andal Ampatuan.
Tucao, Mangudadatu's lone opponent in the 2013 gubernatorial race, has formed an alliance with the Ampatuans, the accused masterminds of the massacre. (Read: The kingmaker wants to be king) and 74 Ampatuans running in elections) - Rappler.com
---
Visit #PHvote, Rappler's coverage of the 2013 Philippine elections.

Get to know the candidates through our comprehensive profile pages and help spread the word about these candidates by answering our poll.
Check out our fun timeline to find interesting trivia on the candidates.
Help us monitor violence & vote buying! Report them through #VoteWatch and our tool will automatically map your report.
Share this page and pledge to #votesmart by clicking on the button below.