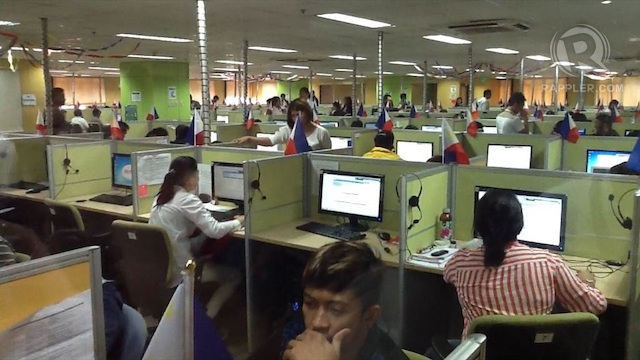 ALL SET. Agents at the National Support Center (NSC) work at their desks on Saturday, May 11, in preparation for the elections. Rappler/Dean Lozarie
MANILA, Philippines - The call center that will answer questions from troubled voting precincts is preparing to go into 24-hour operations for the midterm elections.
More than 500 agents at the National Support Center (NSC) will take calls from members of Boards of Election Inspectors (BEIs) who may have difficulties in conducting the elections or operating the Precinct Count Optical Scan (PCOS) machines on Monday, May 13.
They will shift into 24-hour operations on Sunday, May 12, in anticipation of Monday's polls, and go back to regular hours on Tuesday, May 14, as the voting ends and the canvassing begins.
The center started daily 9-hour operations on May 1, and the bulk of calls they have dealt with so far came during the nationwide Final Testing and Sealing on May 6 and 10, said NSC Assistant Manager Genevieve Guevarra.
Most of the calls came from BEI members who had trouble operating the PCOS machines, she added.
The NSC will assist the Commission on Elections (Comelec) Command Center at the Philippine International Convention Center (PICC) in managing the elections. - Rappler.com