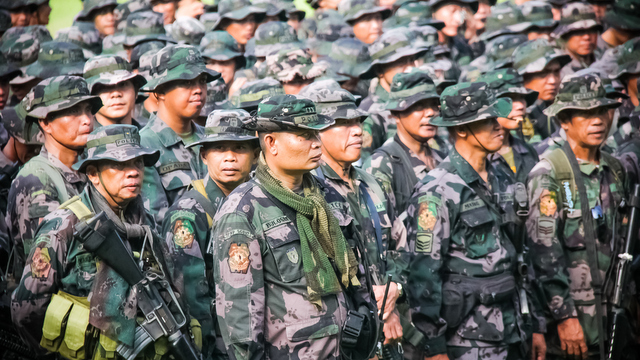 SPECIAL BEIs. 200 ARMM policemen have been deployed to Lanao del Sur to serve as special board of election inspectors. Photo by Ferdinandh Cabrera.
MAGUINDANAO, Philippines - A total of 200 policemen from the Autonomous Region in Muslim Mindanao (ARMM) have been sent to different towns in Lanao del Sur on Saturday, May 11 to serve as special board of election inspectors (BEIs) and additional security forces.
Another 200 are waiting at the regional headquarters for immediate deployment during incidents of intimidation or harassment in polling precincts. Both contingents, trained as special BEIs, came from regions VII and X.
An additional force of 196 policewomen will also be dispatched to the province on Sunday to handle disturbances in areas where female supporters of politicians are involved, since the Maranao culture does not allow men to touch women. This has kept policemen from handling incidents where women are present.
In a send-off ceremony early on Saturday, ARMM police regional director Chief Superintendent Noel Delos Reyes asked for separate Christian and Muslim prayers from his men for the safe and successful conduct of the 2013 midterm elections on May 13.
He also stressed that his men should ensure that people could safely cast their vote.
At least 15 election-related incidents of violence have been recorded in Lanao del Sur, one of 15 provinces declared election hot spots in 2013, and this figure is expected to increase in the runup to the vote.
We "should be part of the solution and not of the problem. We assure you that we [will] go after police [that] work with bad elements," Delos Reyes said in Filipino. - Rappler.com
Visit #PHvote, Rappler's coverage of the 2013 Philippine elections.

Get to know the candidates through our comprehensive profile pages and help spread the word about these candidates by answering our poll.
Check out our fun timeline to find interesting trivia on the candidates.
Help us monitor violence & vote buying! Report them through #VoteWatch and our tool will automatically map your report.
Share this page and pledge to #votesmart by clicking on the button below.