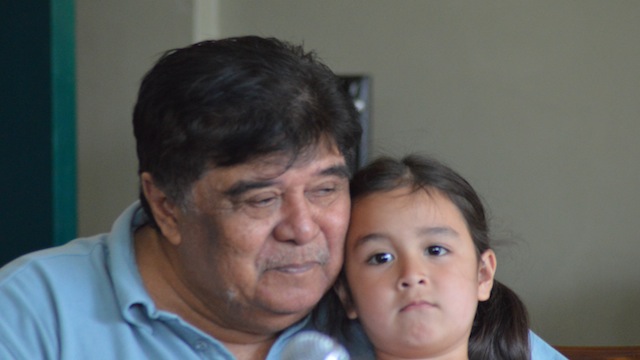 Former congressman Romeo Jalosjos with his daughter during a press conference at his house in Dipolog. Photo taken by Gualberto Laput
DIPOLOG CITY, Philippines - The two opposing political groups here brace for "battle" during elections on Monday, May 13, with this city seen as the "final battleground" in Zamboanga del Norte.
The Jalosjos-Yebes and Uy-Labadlabad-Amatong groups clash in every front – in court, on the Internet, in text and "tsismis" (rumor) brigades, in rallies, and vote buying.
"Karon pa ko aning eleksyon, dagko unta ug hatag apan pagka-samoka (This election is different, there's a lot of money, but it's troublesome)," said a tricycle driver who asked not to be named, adding that supporters of "kontra-partido" were tailing him after he received money from a politician.
(Read: Zambo Norte tight races)
Vote buying
Since May 6, there have been reports of money being distributed by candidates in the province.
According to the tricycle driver, the Jalosjos-Yebes group is paying each voter P3,000, while the Uy-Labadlabad-Amatong group is giving away P1,500 and a piece of paper that says they can claim another P1,500 before voting starts Monday.
Asked which group he received money from, the driver quickly replied: "Dili gyud anang pabalikon pa kog pangayo sir, dili man na tinuod, parehas na sa miaging election nga daghang wala mahatagi (I sure would not go back to ask for the other half of the money, it is not true, it's like in last elections. Many were given claim coupons, but were not able to get the money)."
Warrantless arrest
Last Wednesday, Police Superintendent Joven Parcon, Dipolog City police chief, threatened to file charges against voters and politicians engaging in vote buying and selling.
Parcon made the warning in a press conference held after police, led by Superintendent Reynaldo Maclang, head of Zamboanga del Norte Police Public Safety Company, arrested 4 women in the rest house of Governor Rolando Yebes for alleged vote buying.
The police said they confiscated sample ballots and P15,000 cash.
However, Yebes, who is running for congressman of the province's second district, vehemently denied he was buying votes.
"There were at least 150 of our supporters at my rest house at that time, and they confiscated only P3,000, but even if it was P15,000 as the police claimed, how can it be vote buying with the number of people present?" Yebes asked.
He added that the police "entered my rest house without search warrant and arrested 4 of my workers without arrest warrant."
Mayor in hiding
About 5 hours after, Maclang and his men also raided the house of Mayor Mariano Candelaria in the Municipality of Gutalac of the province's third district and claimed to have confiscated a .45 caliber pistol, a hand grenade and unspecified amount of fake money.
Candelaria was not in his house when the raid took place, but a municipal councilor reportedly witnessed the police operation.
However, a source close to the mayor, claimed that the weapons were planted and that the councilor was just forced to sign the confiscation document.
Candelaria, who also belong to the Jalosjos-Yebes group, is now in hiding.
Final battleground
On May 10, former congressman Romeo Jalosjos, leader of the Jalosjos-Yebes group, called for a press conference and directly accused Maclang of "violating laws with impunity" and that "he is working for the Liberal Party" in Zamboanga del Norte led by the Uy-Labadlabad-Amatong group.
"But the final battleground will be in Dipolog because this is their stronghold," Jalosjos said. "And whoever wins in Dipolog will be the dominant political group in the province, and it will be decided on Monday."
Jalosjos also announced that Czech Ambassador to the Philippines Josef Rychtar would arrive in Dipolog on May 12 to observe the conduct of elections. – Rappler.com
---
Wonder what the headlines are for the past hour? Watch the replays here!
Visit #PHvote, Rappler's coverage of the 2013 Philippine elections.