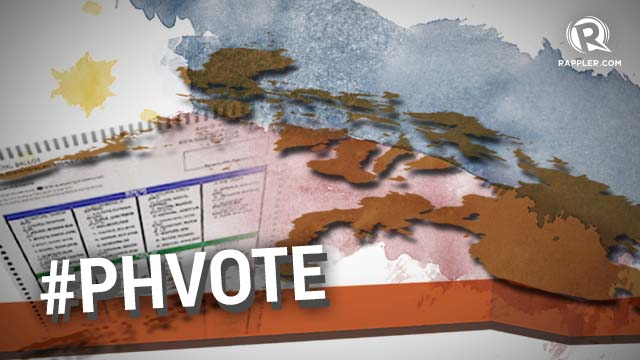 MANILA, Philippines - Hours before the May 13 elections, Rappler received reports of a PNP assessment of election-related violence, intensified security in volatile election areas and the death of a Liberal Party congressional bet.
Philippine National Police (PNP) declared that as of May 11, 46 people were killed and 50 wounded in election-related incidents of violence nationwide.
They recorded a total of 72 incidents of poll violence, 59 of them being shootings. Data showed that 126 individuals were involved in election-related violence incidents and that a majority of those killed were elected government officials. In total, 32 elected officials were killed.
Despite this, the PNP still consider this year's elections peaceful. They said the figures of the 2013 polls are a big drop from 176 incidents in 2010 and 229 incidents in 2007.
But voter intimidation continues to happen in various parts of the country.
On May 12, residents of the municipality of Palanan in Isabela received sample ballots containing bullets of an M14 rifle.
Unidentified armed men left these ballot-wrapped bullets in the yards of residents in Barangay Marikit, Palanan.
According to police, who refused to disclose more details on the armed men, the ballots contained the message: "Magbago na kayo, Kailangan ngayon na, Malaman ang boto niyo!!! (sic)" (You should all change, It has to be now, Know your votes!!!)
Intensified security
In an effort to prevent poll violence figures, government troops have been sent to volatile election areas to intensify security operations.
In Negros Occidental--where a supporter of a mayoral candidate was killed on May 10--2,876 soldiers have been deployed to ensure peaceful elections. The directive came after reports of private armed groups in the 1st, 3rd and 5th districts of the province. These PAGS have been linked to politicians. Thirteen towns and cities are included in the PNP's election watch list.
In Tampakan, South Cotabato--where the delivery of precinct count optical scan (PCOS) machines were postponed due to violence in the town--troops have been increased and commanded to protect election officers and ensure the safe delivery of the PCOS machines.
The violence in the area is mostly from attacks by the New People's Army (NPA) and local groups who oppose the intended large-scale copper and gold mine backed by foreign company Sagittarius Mines, Inc. (SMI).
Protection for election officials is also an issue in Isabela province, Cagayan Valley where an election inspector was shot dead on the night before election day.
May Aquinde, a teacher in the town of San Guillermo, was killed in Barangay Guam at 7:30 p.m. on May 12. Police could not confirm if the incident is election-related.
Day-before death
Another death, ostensibly unrelated to poll violence but still with repercussions to elections, shocked citizens in Siquijor, Central Visayas.
On May 12, Siquijor congressional candidate Dr. Jose Jay Pernes died from a massive heart attack. The Liberal Party bet was proclaimed dead in Siquijor Provincial Hospital at around 3 p.m. that day.
Pernes' wife, Marie Anne S. Pernes, will be the party's substitute bet for the position. - Rappler.com
Visit #PHvote, Rappler's coverage of the 2013 Philippine elections.

Get to know the candidates through our comprehensive profile pages and help spread the word about these candidates by answering our poll.
Share this page and pledge to #votesmart by clicking on the button below.