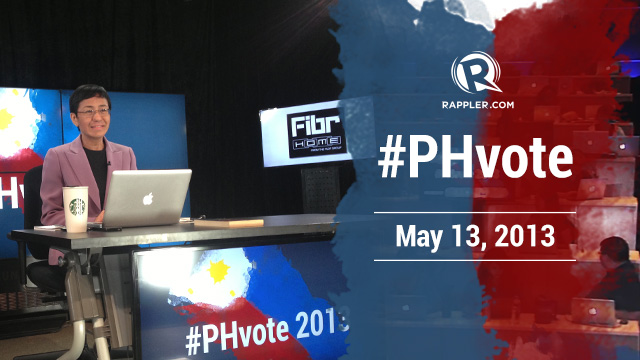 MANILA, Philippines - Welcome to #PHvote 2013, Rappler's coverage of the midterm elections anchored by Maria Ressa with Ayee Macaraig in Cebu, Natashya Gutierrez in Cavite, Carmela Fonbuena in Pangasinan, Katherine Visconti in Taguig City, Aya Lowe in Makati, Ace Tamayo in Quezon City, Patricia Evangelista and Jerald Uy in Manila and Angela Casauay in Cotabato City.
You're in our control center where professional journalists, civic society, citizen journalists, IT professionals, artists and many more trying to use technology for social change.

You'll see most of what we do on Rappler.com but we are also a hybrid of broadcast professionals adapting to the web - and that is the coverage you'll get from us.
Watch our coverage of the results.
You can also watch our coverage from earlier on in the day at the links below.
#PHvote | May 13, 2013 (12nn-6pm)
#PHvote | May 13, 2013 (6am-12nn)
- Rappler.com
Wonder what the headlines are for the past hour? Watch the replays here!
Visit #PHvote, Rappler's coverage of the 2013 Philippine elections.
---
Is your bet leading in the 2013 elections?

Mirrored from Comelec 2013 election results data, we bring you latest numbers fresh from the server!

Check out these links to see results from:

See how fast the Comelec election results data is transmitted through the PCOS Transmission Status Map!
---
Feeling nostalgic? Watch how the May 13 elections unfold through Rappler's hourly #PHvote livestreams:

For overall live updates on the aftermath of May 13 and stories leading up to Decision Day, check out our extensive 2013 Philippine elections coverage!