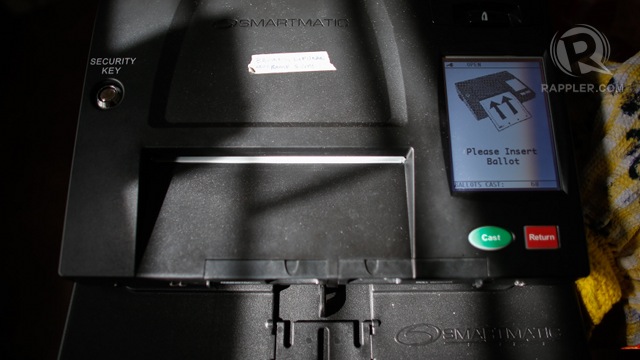 NO PCOS FOR NOW. Ballot counting machines have yet to arrive in 96 precincts. File photo by John Javellana
MANILA, Philippines (UPDATED) – Up to 96 polling precincts have not received their designated ballot-counting machines, memory cards, and other election paraphernalia as of Monday morning, May 13, hampering the voting process in these areas.
That's not all. These materials will still have to undergo the final testing and sealing (FTS) process, said the poll body's acting deputy executive director for operations, Teopisto Elnas, in an interview.
The Commission on Elections (Comelec) earlier sent these areas' precinct count optical scan (PCOS) machines, compact flash (CF) cards, and other materials for repair. These precincts have not arrived in at least 96 of 77,829 clustered precincts as of posting time, Elnas said.
He said in Zamboanga City, for instance, the PCOS machine will arrive at around 11 am "considering the schedule of the plane." (Watch the full interview with Elnas below.)
This number, however, comprises less than 1% of clustered precincts. "More than 99% tayo, up and running 'yung mga polling places natin," Elnas said.
He said the Comelec didn't expect these problems to spill over to election day. "May mga factors din tayo na 'yung pag-ayos natin, hindi kaagad-agad maa-address 'yan." (There are factors that prevent us from immediately addressing these problems.)
These shouldn't prevent people from voting at 7 am, he said.
Elnas noted that based on the Comelec's contingency plans, voters should continue filling out ballots even if the PCOS machines in their areas have not arrived. Then, once the machines arrive, election inspectors will feed the ballots in batches.
These precincts will close at 7 pm, along with the rest, but will accommodate voters within the precincts' vicinities once the clock strikes 7. – Rappler.com
---
Wonder what the headlines are for the past hour? Watch the replays here!
Visit #PHvote, Rappler's coverage of the 2013 Philippine elections.