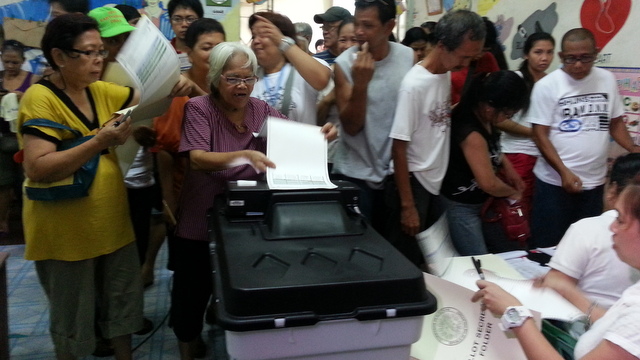 DEFECTS. Voters in Padre Burgos Elementary school in Manila have to resort to manual voting after the PCOS machine stopped working. Photo by Rappler.com/Patricia Evangelista
MANILA, Philippines – Problems hit Precinct Count Optical Scan (PCOS) machines in polling precincts where candidates and public officials – including Vice President Jejomar Binay - cast their respective votes.
Binay's ballot was not accepted by the PCOS machine in San Antonio High School, Makati, when he first inserted it. "Bakit ako pa? Pero wala naman yun, ordinaryong nangyayari iyun (Why me? But that's nothing, it happens)," Binay told the ABS-CBN News Channel.
The machine finally accepted Binay's ballot when he tried it again.
In Tarlac, a paper jam caused the PCOS machine in Precinct 0175A at the Central Azucarera de Tarlac elementary school - where President Benigno Aquino III and his sister Pinky are registered voters - to stop working 3 hours before Aquino cast his vote. The machine accepted the President's ballot, however.
At the Narciso Ramos Elementary School in Asingan, Pangasinan, former president Fidel Ramos had to wait for an hour before he could cast his vote because the PCOS machine malfunctioned.
Liberal Party senatorial candidate Cynthia Villar had to wait for 20 minutes before her ballot could be fed into the PCOS machine in Las Piñas Science High School.
Villar tweeted in @Cynthia_Villar that "The PCOS machine @ our (w/@villar_manny) voting precinct had a technical glitch. I hope it was an isolated incident."
Leni Robredo, a congressional candidate for the third district of Camarines Sur, had to wait before she could cast her vote at the Tabuco Central School because the memory card did not temporarily work. Technicians had to restart the machine.
Another LP senatorial candidate, Risa Hontiveors, said the PCOS in her clustered precinct in Quezon City also malfunctioned.
She tweeted in her Twitter account @risahontiveros that, "The PCOS machine of Cluster C here at North Susana Exec Vill clubhouse has broken down. Every 3 ballots, it stalls. C'mon, Comelec, let's go!"
In Manila, a PCOS machine in Padre Burgos Elementary School stopped working after reading 21 ballots.
Former President and Manila mayoral candidate Joseph Estrada of the United Nationalist Alliance was able to vote without a hitch in Padre Burgos Elementary school, however.
Smartmatic Asia president Cesar Flores said that between 200 to 300 out of 78,000 PCOS machines could break down.
"People should manage their expectations. It's not unexpected for these things to happen," he said.
Former Comelec commissioner Gregorio Larrazabal told the ABS News Channel that in the 2010 elections, 480 out of 78,000 PCOS machines malfunctioned. - with reports from Purple Romero, Patricia Evangelista and Michaela Nadine Pacis
Get to know the candidates through our comprehensive profile pages and help spread the word about these candidates by answering our poll.
Share this page and pledge to #votesmart by clicking on the button below.
---
Wonder what the headlines are for the past hour? Watch the replays here!
Visit #PHvote, Rappler's coverage of the 2013 Philippine elections.