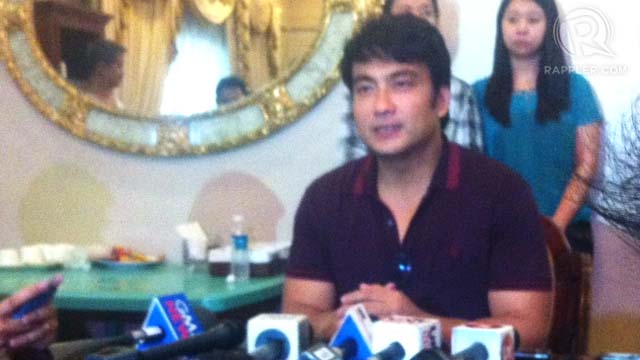 CAVITE, Philippines (4th UPDATE) -- Tension has subsided in the compound of Sen Ramon "Bong" Revilla Jr in Bacoor on Monday, May 13, hours after police accosted a group of armed men and arrested 6 alleged agents of the National Bureau of Investigation (NBI) who sought refuge in the area.
Police, using the plainview doctrine, confiscated 5 firearms used by the NBI agents during the standoff, said Cavite police spokesman Supt Rommel Estolano. They earlier applied for search warrants for 5 vehicles inside the Revilla compound. The police said the vehicles contain several high-powered firearms including M16 rifles.
Chief Supt Generoso Cerbo, Philippine National Police (PNP) spokesman, said the vehicles were used by the suspects when they scampered and sought refuge in the Revilla compound after policemen tried to arrest them.
About 30 armed men, some of whom introduced themselves as Kabayan Bikers while others wore NBI marked vests and National Police Commission vests, surrounded Revilla's house earlier today.
When elements of the Regional Public Safety Battalion (RPSB) went to the area to check on the armed men, a standoff ensued and the policemen were blocked by the armed men.
Policemen called for back-up and local police from Bacoor arrived in the Revilla compound to negotiate with the armed men.
The armed men reportedly told the police that they were requested by Revilla himself, but could they not present any mission order from the NBI.
Police arrested 6 of them but the rest ran towards the Revilla compound. They eventually left, reducing tension in the area.
Before 2 pm, police officials led by Senior Supt Alexander Rafael asked Revilla to subject his residence to a search -- without a warrant. Revilla and key police officials met for an hour and a half, which allowed the police to do a cursory check of the compound. They saw no firearms, according to Revilla, prompting them to leave.
Supt Rommel Casanova Estolan, spokesman of Cavite police, said 5 of those arrested were confidential agents of the NBI.
Charges of violating the election gun ban will be filed against the 6 while police are still waiting for the search warrant to be issued by the courts.
"If they have the search warrant, we don't have a choice. But we have to see the search warrant first," Revilla earlier told Rappler in a phone interview. Revilla has earlier said this incident is an act of harassment from the "biased" police.
Estolano, meanwhile, said the standoff stemmed out of a complaint of a concerned citizen. He denied Revilla's accusation that they were harassing the Revillas. "Walang katotohanan na naging bias ang PNP. Non-partisan ang PNP (There is no truth to claims that PNP is biased. PNP is non-partisan)," he said.-- with reports from Natashya Gutierrez/Rappler.com
---
Wonder what the headlines are for the past hour? Watch the replays here!
Visit #PHvote, Rappler's coverage of the 2013 Philippine elections.