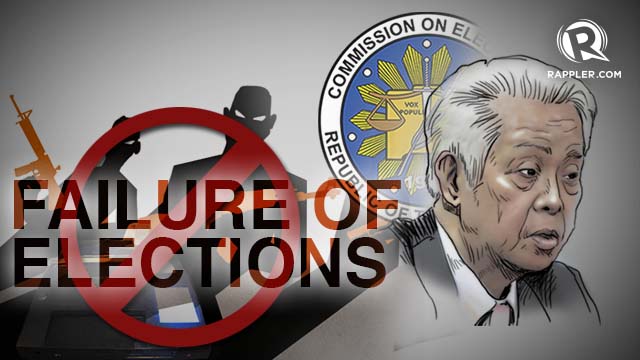 MANILA, Philippines - The Commission on Elections (Comelec) denied early reports on Monday, May 13, that elections failed in areas like Baguio City, saying it is too early to declare this.
The Comelec will discuss this matter in an en banc meeting later on Monday.
"That's too early. I don't think so. It's too early to declare a failure at this time," said Comelec commissioner Lucenito Tagle in an interview with Rappler.
Based on various reports around noon on Monday, local officers have declared a failure of elections in certain precincts in Baguio City and Maguindanao.
The reports that local Comelec officials declared a failure of elections in at least 4 precincts in Barangay Lualhati, Baguio City. The Parish Pastoral Council for Responsible Voting also reported a failure of elections in Barangay Kolambo in Pikit, North Cotabato.
Tagle, however, said only the Comelec en banc can declare a failure of elections. The commission does this only under "worst scenarios," such as a sabotage on ballot-counting machines and massive disenfranchisement of voters. (Watch more in the video below.)
The commission had declared this in certain Mindanao precincts in the past, Tagle said.
Tagle said this means local officers who declared the failure violated the Comelec's rules.
In a press conference later on Monday, Comelec chair Sixto Brillantes Jr echoed Tagle's statement. "There is no such thing as failure of elections, not until the voting is finished," he said.
Meanwhile, Brillantes said two precincts – located in Baguio and Compostela Valley – will lose their right to vote because of the incident.
"There is no way that we can bring Compostela ballots to Baguio City within the day. There is no way we can exchange. But this involves only one particular precinct, and therefore it should not affect elections both in Compostela and Baguio," Brillantes said. (Watch more in the video below.)
He added it will cost the Comelec millions to correct the problem. He said because of this, voters in these precincts have ended up "effectively disenfranchised." (Read: Comelec: We can't fix wrong ballots.) – Rappler.com
Wonder what the headlines are for the past hour? Watch the replays here!
Visit #PHvote, Rappler's coverage of the 2013 Philippine elections.