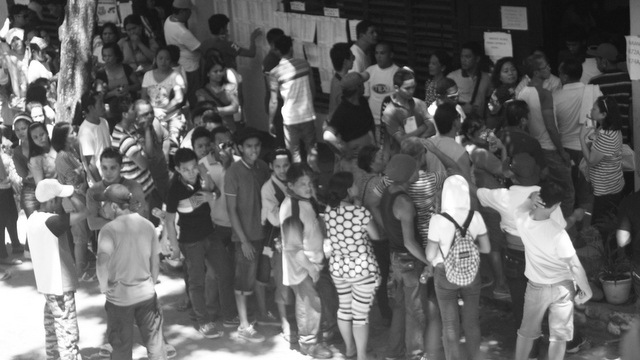 DEFECTIVE PCOS MACHINES=LONG LINES. Voting in a precinct in Cagayan de Oro was stalled due to defective PCOS machines. Photo by Jerome Jungco
MANILA, Philippines - [2ND UPDATE] Glitches in the Precinct Count Optical Scan (PCOS) machines have caused difficulties in voting in some areas in the country on Monday, May 13.
According to a Commission on Elections (Comelec) projection, 200 PCOS machines may have defects, Comelec chairman Sixto Brillantes said.
Rappler gathered details on these from reports on the ground and verified posts on social media:
Luzon
In Quirino Elementary School in Project 2, Quezon City, PCOS machines for precincts 3947 to 3950 stopped working in the afternoon.
Election Supervisor Vergie Monteverde said they counted 271 votes and will use other working PCOS machines from other precincts to transmit the votes.
Comelec officer Chona Larupay told Rappler that about 1,000 voters in Taguig's cluster 38 at Bagumbayan Elementary failed to feed their ballots into the PCOS machines after the board of election inspectors failed to reset the count in the PCOS machine to zero.
In Manila, a PCOS machine in Padre Burgos Elementary School stopped working after reading 21 ballots.
Another PCOS machine in a polling cluster in Aurora Quezon Elementary School in San Andres, Manila also malfunctioned.
Election inspector Susana Oppura said the machine assigned to voters of Barangay 703 under precincts 2772 A and B did not read the ballots.
Fourteen PCOS machines did not work in Ibaan, Sto. Tomas, Lemery, San Pascual, San Nicolas, Mabini, Laurel, Balete, Batangas city, Tanauan, Nasugbu, San Jose, San Juan and Padre Garcia, all in Batangas.
In Pampanga, voters in Clustered Precinct #15 in Barangay Concepcion were not able to feed their ballots into a PCOS machine after it malfunctioned, when the back-up memory card for it was inserted, PCOS technician Karen Catu said.
Polling in some precincts in Alaminos, San Pablo in Laguna was temporarily cancelled because of failure of PCOS machines.
In Bicol, the army reported that at least 34 out of 5539 PCOS machines have glitches. PCOS malfunction was also reported in Sagrada, Tinambac in Camarines Sur.
Visayas
5 PCOS Machines failed to work in Talisay City in Cebu for an hour.
Mindanao:
Voting was suspended for more than 20 minutes in cluster Precincts 78-79 in Barangay Apopong, General Santos City after the PCOS machine briefly malfunctioned at around 9:30 in the morning. Voting however resumed after it was repaired. The same problem occurred in Precinct 254 in Lagao at 12 noon.
The PPCRV said voting was delayed in a precinct in Isabela East Central Elementary School due to glitches of 2 PCOS machines. The Philippine Information Agency reported there are 3 identified defective PCOS machines in 3 barangays in Binuangan town in Misamis Oriental.
Defective PCOS machines in Central School-Cagayan de Oro City have led to congested voting lines.
In Cagayan de Oro, there were 26 PCOS machines that failed to work the in precincts of Bulua, Misamis Oriental General Comprehensive High School, Carmen, Kauswagan and Lumbia. Technicians were able to fix 18 of the machines. The rest of the PCOS machines would be replaced. - with reports from Katherine Visconti, Edwin Espejo, Ace Tamayo, Rappler research team and Move ambassadors.
---
Visit #PHvote, Rappler's coverage of the 2013 Philippine elections.

Get to know the candidates through our comprehensive profile pages.
Check out our fun timeline to find interesting trivia on the candidates.
Help us monitor violence & vote buying! Report them through #VoteWatch and our tool will automatically map your report.
Share this page and pledge to #votesmart by clicking on the button below.