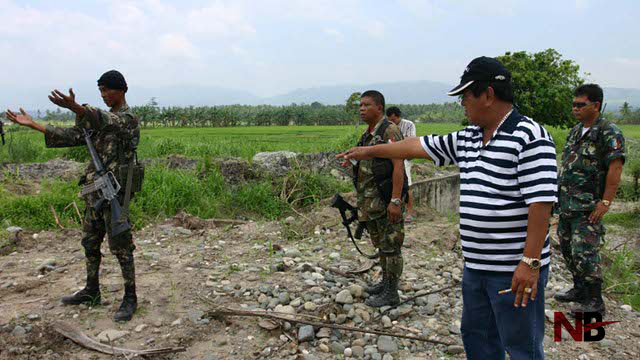 NO VIOLENCE. Election day in Negros Occidental was "generally peaceful."
BACOLOD CITY, Philippines - The elections in Negros Occidental appear to be violence-free, with no untoward incidents by the end of voting at 7pm in 13 towns and cities included in the election watchlist areas of the Philippine National Police (PNP).
A day before the elections, two shooting incidents were reported in 2 areas in the town of Moises Padilla. No one was reported hurt among the supporters of re-electionist Mayor Francisco Nazareno and mayoral candidate Ella Jacildo, police records showed.
Acting provincial Comelec supervisor Wil Arceno said that the elections in Negros Occidental was relatively peaceful except for some reports of intimidation and coercion of voters.
Road-blocks
In Moises Padilla, passageways for voters in some haciendas were reportedly closed down in private properties.
The breakdown of precinct count optical scan (PCOS) machines and defective memory cards have slowed down the polls in Bacolod City and Negros Occidental. Voters also complained about waiting a maximum of 5 hours to cast their votes.
Arceno said that the Comelec received reports of defective PCOS units in Isabela, Kabankalan City Silay City, Ilog, La Castellana, Bacolod City, Bago City, Talisay, Pulupandan, Manapla and Cadiz City. However, the agency does not have a specific number of breakdowns.
"We will be lucky if proclamations can be made by tomorrow afternoon," he added.
Senior Supt. Ricardo de la Paz, officer-in-charge of the Negros Occidental Provincial Police Office, said that he is hopeful that the polls will remain violence-free until the election period is over.
'Generally peaceful'
Col. Jon Aying, 303rd Infantry Brigade commander, said that while there were reports of armed rebels in some areas of southern Negros in recent days, the election was generally peaceful.
Aying said he believes that they were able to suppress the movements of suspected private armed groups (PAGs), who were sighted in Escalante City, Toboso, San Carlos and Calatrava in the first district, Silay City in the 3rd district, and Moises Padilla in the 5th district of Negros Occidental, due to their round-the-clock security and visibility operations.
"We are still blessed. Hopefully, it will continue," Aying added.
The city of Escalante, Pulupandan and Moises Padilla- which were included in the list of 13 election areas of concerns in Negros Occidental- have the most number of military and police personnel deployed.
The Philippine Army tapped its armored personnel carrier and its elite Scout Ranger troopers to conduct visibility operations in central Negros, including Pulupandan.
The troopers of the elite police Special Action Force (SAF) were also deployed in Escalante and its neighboring areas to suppress movements of suspected PAGs. The SAF adds to the presence of the 62nd and 3rd Civil Military Operations Battalions and the 6th Regional Public Safety Battalion troopers in the area.
Lt. Col. Patrick Cinco, the commander of the 3rd Civil Military Operations Battalion, said that the election in Escalante- known for intense political rivalries during elections and extra-judicial killings- was free from violence.
"This is a clear indication that its residents also believed in the spirit of democracy, unity and culture of peace," he added.
Escalante Mayor Melecio Yap was charged for murder and frustrated murder charges before the Provincial Prosecutor's Office of Negros Occidental in connection with killings that date back to the 2007 elections. He denied involvement in the killings. - Rappler.com