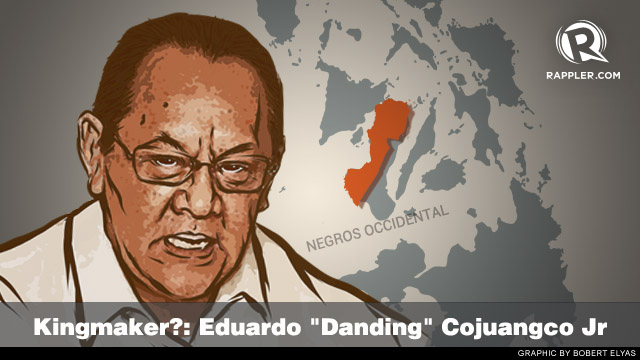 MANILA, Philippines - Initial and unofficial poll results in Negros Occidental show that businessman Eduardo "Danding" Cojuangco's Nationalist People' Coalition (NPC) is trailing in electoral races in the province.
As of 11:00 pm, Gov. Freddie Maranon of the United Negros Alliance (Unega) has built a substantial lead in the race for governor with 270,091 votes against the NPC's Lim-ao Alvarez who has 179,639 votes.
In Binalbagan town, the Liberal Party's Emmanuel Aranda is trouncing the NPC's Leopoldo Gepes with 13,263 votes for Aranda versus 3161 for Gepes.
In Silay City, the race is closer as the LP's Jose Montelibano garnered 14,569 votes over the NPC's Carlo Gamban who has 13,031 votes.
In Manapla town, the LP's Lourdes Escalante is leading the NPC's Edilberto Vocal with 6331 votes for Escalante and 3703 of Vocal.
But in Pontevedra town, the NPC's Jose Maria Alonso is leading with 5672 votes over his closest rival George Gitano who has 4228 votes.
In Talisay City, the LP's Ric Saratan has built a substantial lead with 14,902 votes over Unega's Amelito Lizares with 7412 votes. Interestingly, Unega is the LP's coalition ally.
Gov. Maranon defied Cojuangco by running for another term, after the NPC founder anointed Vice Gov. Alvarez to become the next governor.
The country's sugar capital, Negros Occidental has 1.6 million votes, the country's 4th biggest voting province.
Cojuangco had held an iron grip on the province's poltiics and used the voting population as an important bargaining chip to national politicians. He is uncle to President Benigno Aquino III. - Rappler.com
Is your bet leading in the 2013 elections?
Mirrored from Comelec 2013 election results data, we bring you latest numbers fresh from the server!
Check out these links to see results from:
See how fast the Comelec election results data is transmitted through the PCOS Transmission Status Map!
Feeling nostalgic? Watch how the May 13 elections unfold through Rappler's hourly #PHvote livestreams: