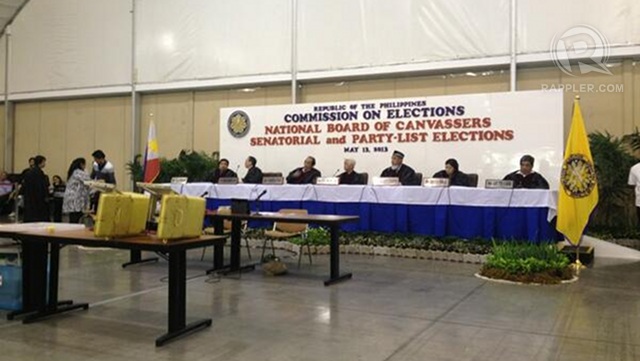 FINAL SAY. The Comelec, sitting as the national board of canvassers, will finalize the tally for senatorial and party-list results. Photo by Paterno Esmaquel II
MANILA, Philippines – Which count will decide the winners of the midterm elections?
In a press conference on Monday night, May 13, poll chief Sixto Brillantes Jr explained that election results published through two of three servers – the Comelec central server and the transparency server – remain unofficial. Initial results published by media groups, including Rappler, come from transparency mirror server.
The only official results will come from the server of the municipal board of canvassers (MBOC), Brillantes explained. (Watch more in the video below.)
In the case of senatorial and party-list candidates, the results will flow from the MBOC server, then to the provincial board of canvassers server and the national board of canvassers server. "The official one goes into a ladderized system," he said.
"Dapat hintayin nila 'yung resulta ng Comelec, kasi Comelec lang ang may quick count dito. Kami na ang pinakamabilis. Wala nang mas bibilis pa sa Comelec, kahit na media outlet," Jimenez said. (They should wait for Comelec's results, because only Comelec has a quick count. We are now the fastest. No one can be faster than the Comelec, not even media outlets.)
Hard copies of election results will allow interested parties to double-check the results, Jimenez said. – Rappler.com