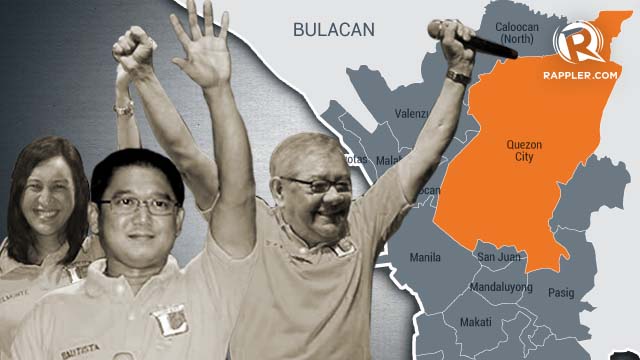 MANILA, Philippines - Liberal Party (LP) bets Mayor Herbert "Bistek" Bautista and Vice Mayor Joy Belmonte still lead the unofficial results for the local race in Quezon City.
Based on the Rappler Mirror Server as of 12:45 PM, Tuesday, May 14, Bautista already received 479, 414 votes over his rivals John Chang who got 46,859 and Henry Samonte who was voted by 21,521 people.
Vice Mayor Joy Belmonte also enjoy a sizeable lead over Rolando Jota with 482,858 votes against 34,071.
Both Bautista and Belmonte were reportedly endorsed by influential religious group, Iglesia Ni Cristo.
Congressional race
All six Liberal bets for each district in Quezon City also led the congressional race.
Boy Callay leads District 1 with 52,006 over rivals Rita Crisologo of UNA who got 47,365 and Gary Jamile with 1,751.
In district 2, Winston Castelo leads with 66,271 over Ismael Mathay III who got 37,955 while in district 3, incumbent congressman Jorge Banal leads with 42,404 over close rival Mat Defensor of UNA with 34,484.
Incument 4th district congressman and current House Speaker Feliciano Belmonte Jr., is currently edging by a large margin with 89,531 votes over PMP's Hans Palacios with 9,049.
Actor Alfred Vargas of the Liberal Party also leads in the 5th district with 56,954 over closest rival Annie Rosa Susano who currently has 21,837 votes. Vargas also leads over UNA's Dante Liban with 9,266 votes and Isagani Oro of AKSYON with 3,953 votes.
For district 6, unopposed candidate and Liberal bet Kit Belmonte so far has 71,337 votes. – Rappler.com