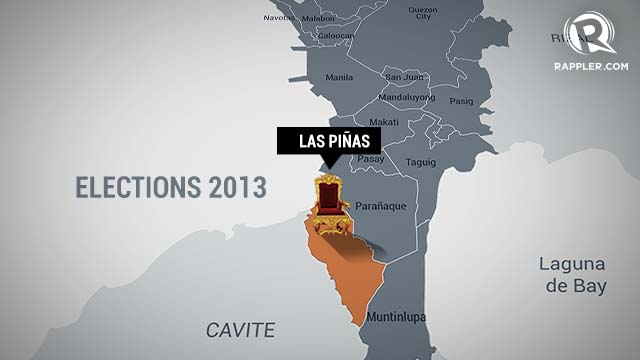 LAS PIÑAS CITY, Philippines (Updated) – Re-electionist city Mayor Vergel "Nene" A. Aguilar has won by an overwhelming margin on Tuesday, May 14.
Aguilar was proclaimed at 7:18 PM today
Aguilar won with 152,583 votes, a difference of 148,335 votes over his closest opponent, Conrado Miranda, who got only 4,248 votes. These are part of an unofficial count.
His running mate, incumbent Vice Mayor Luis I. Bustamante also won with a total of 136,744 votes.
Rep Mark Villar of the city's lone district was reelected with 147,884 votes.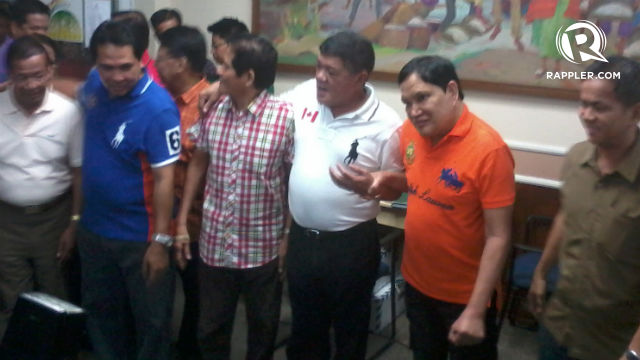 THREE MORE YEARS. "Team Nene" celebrates landslide victory at the Proclamation of Winners in Las Pinas City. Photo by Justine Siscar/Rappler
It is the 6th time Aguilar has been elected mayor since 1992. His nephew Rep Mark Villar is on his 2nd term. Villar is the son of Sen Manny Villar and senatorial candidate Cynthia Villar.
With a large majority of the votes favoring all 3 candidates, this may seem just like a replay of the 2010 elections.
Benjamin Gonzales also ran for vice mayor in 2010. This year, he finished second with 15560 votes.
Mayoral candidate Felix Sinajon, who ran in the 2010 elections, came in last with 1,167 votes.
Losing congressional bet Filipino Alvarado got 2,679 votes. He also ran in 2010.
For many Las Piñas residents, their victory is not surprising, with many saying the entire campaign period passed without them knowing who the other competitors were. - Rappler.com
Is your bet leading in the 2013 elections?
Mirrored from Comelec 2013 election results data, we bring you latest numbers fresh from the server!
Check out these links to see results from:
See how fast the Comelec election results data is transmitted through the PCOS Transmission Status Map!
Feeling nostalgic? Watch how the May 13 elections unfold through Rappler's hourly #PHvote livestreams:
For overall live updates on the aftermath of May 13 and stories leading up to Decision Day, check out our extensive 2013 Philippine elections coverage!