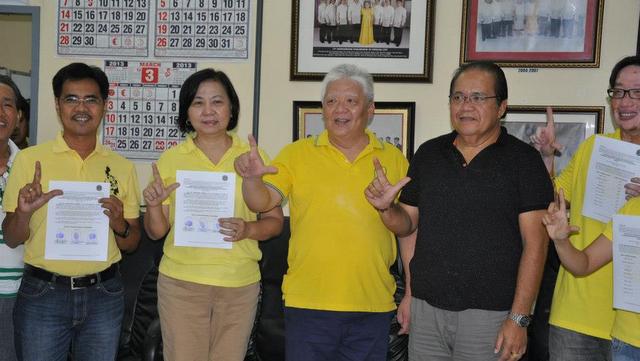 UYS WIN. They trounced the Jalosjos political clan this time. Photo from Dipolog City Information Office
DAPITAN CITY, Philippines - One of the country's political dynasties, the Jalosjoses of Zamboanga del Norte, was almost wiped out in the 2013 midterm elections. Of the 6 Jalosjoses who ran for different elective posts in Zamboanga del Norte, only two have made it while another family - the Uys of Dipolog City - has emerged as the province's new political dynasty.
At almost midnight on May 14 - Rosalina Jalosjos-Johnson of the United Nationalist Alliance, sister of the Jalosjos clan kingpin, Romeo G. Jalosjos - was proclaimed mayor of Dapitan defeating incumbent Mayor Agapito J. Cardino (Independent), who has been supported by Liberal Party.
Romeo G. Jalosjos' son, Representative Frederick Seth P. Jalosjos, is likely to be proclaimed by weekend as reelected congressman of the province's first district. He was challenged by lawyer Vicente B. Balisado (LP).
On May 15, Evelyn Tang-Uy was proclaimed reelected mayor of Dipolog defeating former representative Cecilia Jalosjos-Carreon, sister of Romeo G. Jalosjos.
Meanwhile, Evelyn Tang-Uy's husband, Roberto Y. Uy is leading in the official tally of the Commission on Elections (COMELEC) against Representative Cesar G. Jalosjos (NP), brother of Romeo G. Jalosjos.
Uy's son, Pinpin Uy, is also leading in the COMELEC tally mayor of the Municipality of Polanco against Joy Olvis (UNA), who is allied with the Jalosjoses.
Board Member Johanna Jalosjos-Parreno (NP), daughter of Rep. Cesar G. Jalosjos, lost to former governor Isagani S. Amatong (LP) for the congressional seat of the province's third district. And JJ Jalosjos (NP), son of Rep. Cesar G. Jalosjos, lost to Eddie Quimbo (LP), in the mayoral race for the Municipality of Labason.
Abnormal
Amid comments that last elections was so far the worst in Zamboanga del Norte, Romeo G. Jalosjos told Rappler that he was "shocked" with "so much abnormality" and "unbelievable results" in the conduct of the elections, particularly the results spit out by PCOS machines.
His brother, Cesar, said he could not believe that he got "zero votes" in one precinct in Gutalac Municipality and in Lubing Ugis, Barangay Galas, in Dipolog.
"And here is one thing," Rep. Cesar G. Jalosjos continued, "in Barangay Sipaket, Sirawai Municipality, there were 406 voters and 256 cast their votes. My opponent got 137 votes while I got five. Now, where did the 114 votes go?"
Rep. Cesar G. Jalosjos lamented that there was at least one PCOS machine that broke down in every polling place.
The Jalosjoses have ordered its watchers in the second and third districts not to sign the certificates of canvass and statements of votes as they prepare to file election protest for "massive election fraud."
Rappler tried to get the side of the Uys, but they refused to answer our calls and text message.
The evils of dynasties
Nevertheless, Romeo G. Jalosjos said he is still pleased to having held on to Dapitan and the first district, which he said is the clan's political bailiwick.
"We had a dynasty, that I don't deny. But no law states that is wrong. Now only two in our family will go on in public service, but that is alright. If they (in the LP) has indeed manipulated the result of the elections here, no superman can prevent it. Yet, in the final analysis, it is not us but the people they are hitting," he stressed.
Somehow, the eternal debate whether or not political dynasties are evil will continue to be relative - voters replace a dynasty they don't like with a dynasty they like.
And in this part of the country, the Uys have just emerged as the new political dynasty of Zamboanga del Norte. - Rappler.com
Visit #PHvote, Rappler's coverage of the 2013 Philippine elections.

Get to know the candidates through our comprehensive profile pages.
Check out our fun timeline to find interesting trivia on the candidates.
Help us monitor violence & vote buying! Report them through #VoteWatch and our tool will automatically map your report.
Share this page and pledge to #votesmart by clicking on the button below.