LAGUNA, Philippines - For the next 3 years, another Chipeco will head the city of Calamba.
Justin Marc SB Chipeco of the Nacionalista Party won as the city's new chief execuitve. He was proclaimed by dawn of Thursday, May 16 at the Calamba City Hall.
Chipeco is the son of former 3-term Calamba mayor Joaquin "Jun" Chipeco Jr.
Justin's father ran and won for 2013 as 2nd district representative of Laguna under the Liberal Party. His grandfather, Victoriano Chipeco, was appointed officer-in-charge of Calamba in 1987.
Proclaimed together with Justin is his running mate for the vice mayoral post Roseller Rizal. Calamba Election Officer III Evelyn Parayan headed the proclamation.
Justin Chipeco defeated Severino Lajara of PDP-Laban as well as independent candidates Joel Paner and Lito Teves. Lajara was the city vice-mayor from 2004 to 2013 and was also elected mayor from 1994 to 2004
The final tally, with 100% of the city's votes transmitted, showed Chipeco receiving 72,270 votes. He had a lead of 4,023 votes over Lajara.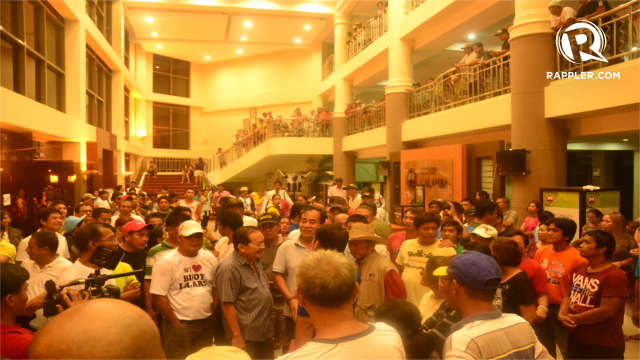 PROTEST. Commotion occurred after mayoralty candidate Salvador Lajara demanded to end the canvassing recess. Ruben Espiritu/Rappler
Canvassing period
On Tuesday, May 14, commotion occurred in the Calamba City Hall as supporters of mayoralty candidate Salvador Lajara demanded that the Board of Canvassers (BOCs) resume the canvassing of votes after it was suspended due to a technical glitch.
According to the BOCs, the local system did not reflect the results of the ballots despite being reflected on the national Comelec server. A heated confrontation transpired as the local police had to barricade the canvassing office.
A number of Compact Flash cards was not working at around 6 pm on Wednesday, May 15. This prompted the BOCs to use a contingency Precinct Count Optical Scan machine and manually feed the ballots.
Prior to election day, local Comelec officer Evelyn Parayan said they were 99.1% ready for the 2013 polls. The canvassing of votes in Calamba, however, lasted for almost 3 days. It started on the night of Monday, May 13, and ended dawn of Thursday, May 16.
Only 61% of the city's 248,612 registered voters cast their votes on Monday, May 13. Calamba has 54 barangays, with 295 clustered precincts. - with reports from Rappler Ambassador Ruben Espiritu/Rappler.com