MANILA, Philippines – Did the opposition slate's campaign promise of uplifting the lives of the poor resonate with voters?
We checked the May 13 performance of the senatorial candidates of the United Nationalist Alliance (UNA) in the 10 poorest provinces against the administration's Team PNoy bets.
In each of these provinces, 8 to 9 Team PNoy candidates consistently figured in the winning circle, while only 3 to 4 from UNA got the votes, according to the final official tally.
Based on the First Semester 2012 Poverty Statistics released by the National Statistical Coordination Board, the 10 poorest provinces in the country are:
Lanao del Sur - 68.9%
Apayao - 59.8%
Eastern Samar - 59.4%
Maguindanao - 57.8%
Zamboanga del Norte - 50.3%
Davao Oriental - 48%
Ifugao - 47.5%
Sarangani - 46.5%
Negros Oriental - 45.3%
Masbate - 44.2%
The monthly income of the families in these provinces has been calculated as less than the poverty threshold of P5,540 – the amount that an average Filipino family of 5 needs to meet its basic needs. Families in these areas eke out a living through fishing, farming and working in mines.
These provinces have 3.7 million registered voters.
Team PNoy: Weakest in Maguindanao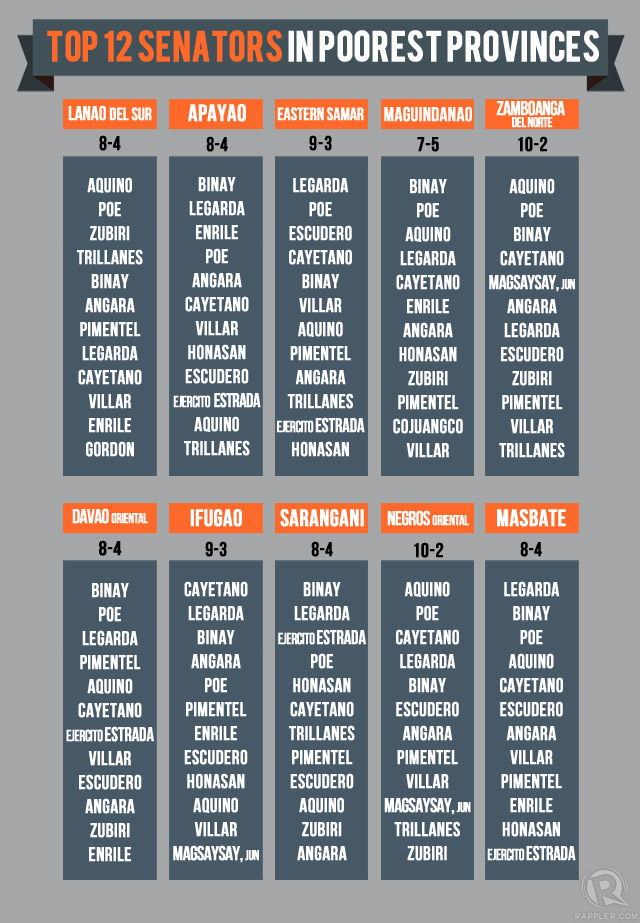 The Team PNoy bets who fared well in these provinces were: Grace Poe, Paolo Benigno "Bam" Aquino IV, Francis Escudero, Loren Legarda, Juan Edgardo Angara, Alan Peter Cayetano, Antonio Trillanes IV, Cynthia Villar, and Aquilino Pimentel III.
LP member Aquino, cousin of the President, was the number one choice of voters in Lanao del Sur, Zamboanga del Norte, and Negros Oriental.
Aquino got 118,803 votes in Lanao del Sur, 180,885 in Zamboanga del Norte, and 200,134 in Negros Oriental.
From the UNA camp, Nancy Binay, Gregorio Honasan, Jack Enrile, JV Ejercito, and Juan Miguel Zubiri were the only ones who were consistently in the top 12 in the 10 poorest provinces.
Binay, Enrile, and Ejercito are children of the 3 stalwarts of UNA: Vice President Jejomar Binay, Senate President Juan Ponce Enrile, and former President Joseph Estrada.
Binay was number one in Maguindanao with 146,554 votes, in Apayao with 27,410 votes, in Davao Oriental with 95,719 votes, and in Sarangani with 124,150 votes.
UNA has criticized the Aquino administration for its alleged failure to uplift the lives of the poor despite a high gross domestic product of 6.6% for 2012 and record-breaking performance of the stock market.
Final results showed that at least 8-9 Team PNoy bets dominated the senatorial race in Apayao, Eastern Samar, Davao Oriental, Ifugao, Sarangani, Lanao del Sur, and Masbate.
The administration slate's numbers were even better in Negros Oriental and Zamboanga del Norte, where voters gave them a 10-2 win over UNA. The only UNA candidates who made it in the top 12 in these provinces were Binay and Zubiri.
Team PNoy's performance was weakest in Maguindanao, where it only clinched 7 of the senatorial slots.
How they voted in 2010
In the 2010 presidential elections, the poorest provinces were evenly split between the Aquino-Mar Roxas and the Estrada-Binay tandems.
Four of these provinces threw their support behind the LP tandem of then senators Benigno Aquino III and Manuel 'Mar' Roxas – Ifugao, Masbate, Negros Oriental, and Zamboanga del Norte.
Apayao, Davao Oriental, and Sarangani went for Estrada and Binay, who ran under the United Opposition.
Eastern Samar, Lanao del Sur, and Maguindanao voted for a split ticket, with Aquino winning for president and Binay for vice president.
But in 3 years, the province of Apayao has converted to LP. Team PNoy's strong showing could be attributed to the fact that 6 of the unopposed mayors in the province are LP members.
Apayao, like Maguindanao and Zamboanga del Norte, had one-on-one races in the gubernatorial level. Elmer Bulut of Liberal party won against Mading Almazan of UNA.
In Maguindanao, LP's re-electionist Gov. Esmael "Toto" Mangudadatu defeated challenger Sultan Kudarat town Mayor Tucao Mastura of UNA.
In Zamboanga del Norte, Cesar Jalosjos of the Nacionalista Party was beaten by Roberto Uy of the Liberal party. – Rappler.com