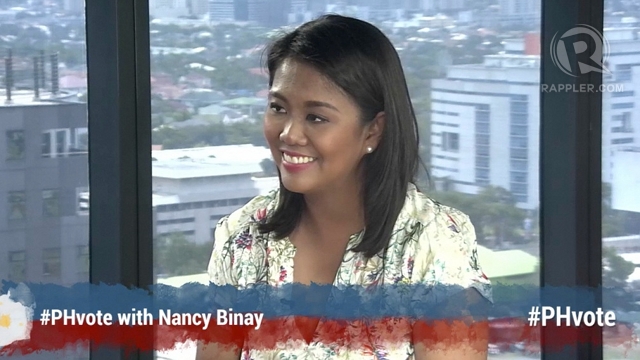 'BETTER VERSION.' Nancy Binay says her goal is to be like her father, Vice President Jejomar Binay, or even be a better version of him. She says they are like different variants of the same soda: Coke Light and Coke Zero.
MANILA, Philippines – Now that she is senator-elect, how will Nancy Binay make a name separate from her father?
"Parang I can't eh. Siguro ang magiging ano ko na lang is I improve the brand." (I can't. Maybe what I can do is improve the brand.)
In an interview on Rappler's #PHvote, Vice President Jejomar Binay's daughter chose a unique metaphor to explain her ties with her father.
"Kumbaga sa softdrinks, I'm still a soda, different ano (variant) lang. Kung father ko Coke Light, ako siguro Coke Zero," Binay told Rappler CEO and Executive Editor Maria Ressa on Monday, May 20.
(If you compare it to softdrinks, I'm still a soda, just a different variant. If my father is Coke Light, maybe I am Coke Zero.)
Days after becoming the 5th highest ranking senator, Binay said she will not deviate from her father's policies and beliefs when she joins the Senate for 6 years.
"More or less, the same pero siguro sa akin mas may innovation kasi siya, hindi pa siya masyadong in keeping with technology," said Binay who maintains a Facebook, Twitter and Instagram account.
(More or less, it will be the same but maybe for me, there's more innovation because he is not yet that updated with technology.)
"Maybe I can be a better version. My father keeps on saying my brother [Makati Mayor Junjun Binay] is a better version of him because now in Makati, he can incorporate technology and things like that."
Binay acknowledged that her last name was a key factor in winning an election where she was criticized for her lack of experience and competence.
"Having the Binay last name is both a blessing and a challenge. It made me win but [it's] a challenge because I have to live up to that name that my father started."
Her core strength
Binay's father was Makati mayor for over two decades, only stepping down when his term was up and fielded his wife as mayor. Her brother was re-elected as mayor of Makati and her sister, Abigail, won another term as representative of Makati's 2nd district.
Observers saw Nancy Binay's victory as an expansion of the Binay dynasty from the local level to the national scene.
Nancy Binay said she is against an anti-political dynasty bill, admitting that the measure would have stopped her from becoming senator.
"Why would you limit the choice of the voters just because you share the same last name? At the end of the day, what we should ensure is it's a clear and honest government."
In the campaign, Nancy Binay said she learned that voters look for "somebody who can really help them."
How did she convince them that she is that person?
"It helps my last name is in a way synonymous with service. Every time I go to the province, the way they look at me is the way they look at my father so maybe I think they see that I will be bringing in the same kind of service," she said.
Binay stressed that the experience she got from her father and mother, former Makati Mayor Elenita Binay, helped her win and equipped her for a Senate seat.
"I was my father's eyes and ears on the ground. At the end of the day, the number one trait of our leader should be a good listener. How will you know what laws to implement if you don't know what they need on the ground? I think that's my core strength."
Binay, who campaigned using the slogan "nanay de kampanilya" and line "Ina, Anak, Kapatid," said the emotional campaign pitch was not intentional.
"Because 'ina, anak, kapatid' (mother, daughter, sister), that's the real me. I can't deviate from what I am so I focused on it and I guess I derive my experience from being a mother, from being a daughter and from being a sister and at some point, we're all a daughter, a sister, a mother."
Her focus on family is also the reason why she said she is against divorce.
"I think government should help strengthen families and not break it apart and we already have provisions in the Constitution like annulment, legal separation," she explained.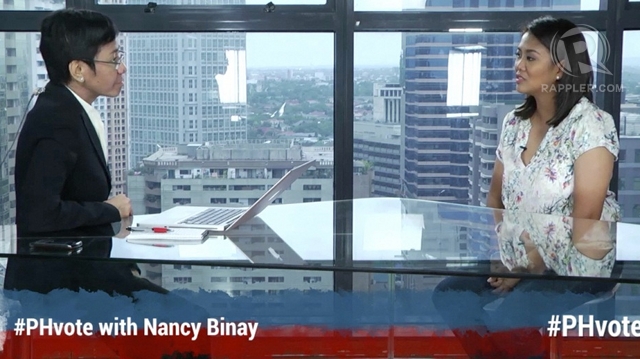 KNOWING NANCY. After turning down debates and studio guestings during the campaign, Nancy Binay meets the press, guesting on GMA-7, ABS-CBN and Rappler to grant media interviews.
'We're the next gen'
As senator, Binay said she will focus on children's formative years, ages 0 to 5, prioritizing what she called a preventive approach to address the lack of projects and programs for children.
She is pushing for more daycare and feeding centers, and an expanded immunization program.
The 40-year-old Binay said the Senate will be filled with fresh blood, with Bam Aquino, 36, Grace Poe, 44, and San Juan Rep JV Ejercito, 43, all winning Senate seats.
While she said politics did not change since the time she was first exposed to it, Binay is hopeful a young Senate will help transform the dirty nature of politics.
"How? Siguro ano kami eh, we're the next gen. We've gone through, me more than 20 years so siguro I can start making that change …. Maybe keeping up with the times ang key legislation, more up to date."
(We're the next generation. I've gone through more than 20 years in politics so I can start making that change.)
One thing Binay will not change is her identity as part of Makati's powerful political family.
Asked what makes her a different Binay and how she will show that to Filipinos, Nancy said, "I guess makikita na lang nila these coming years how different I am." (They will just see these coming years how different I am.) – Rappler.com