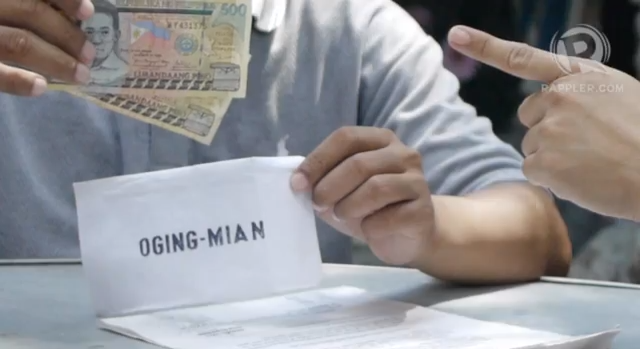 MARIA RESSA, ANCHOR: Pre-shaded ballots, discrepancies in voters' lists, and malfunctioning ballot-counting machines.
With over 300 incidents of election offenses, election watchdog Legal Network for Truthful Elections or LENTE says the midterm polls are worse than the 2010 elections.
In Southern Leyte, a policeman and a barangay official turn witness in vote buying allegations against local politicians.
Voltaire Tupaz reports.
(READ FULL STORY: Cop exposes vote buying in Southern Leyte)
Oging is Roger Mercado, the incumbent governor of Southern Leyte, a poor province with at least 254,000 voters.
Mian is Damian Mercado, the congressman of the lone district of the province.
The brothers are being accused of vote buying.

PO1 Hefner Doble, a cop in the town of Pintuyan, files an affidavit saying he received an envelope containing two P500-peso bills a few days before the elections.
Oging's and Mian's names are printed on the envelopes.

PO1 HEFNER DOBLE, VOTE BUYING WITNESS: Last May 8, natanggap ko young sobre na binigay ni running (mayoral candidate) Rustico Estrella doon sa Pintuyan…Sabi niya sa akin, 'Pahalipay gikan sa atong congressman ug sa atong governor.
(Last May 8, I received an envelope from Pintuyan mayoral candidate Rustico Estrella. He said, I have something to make you happy from the congressman and from the governor.)

Mercado says the order in which their nicknames were printed on the envelopes is a give-away it did not come from his camp. Printed on the envelope is "Oging-Mian."
He claims they are Mian-Oging, since they are now running for each other's posts. They cry political harassment, blaming opponents from the administration party.

DAMIAN MERCADO, SOUTHERN LEYTE REPRESENTATIVE: Talagang gawa-gawa lang yan. Kase supposed to be, kung galing sa amin yan kelangan Mian-Oging. Kase ako congressman, si Oging governor. Una ba ang governor?
(It's clearly fabricated. If it came from us, it should have read Mian-Oging. I am the congressman, Oging is governor. Does the governor come first?)

Their defeated rival, Marisa Lerias, denounces the entrenched practice of vote buying in her province.
Lerias also comes from a powerful clan that ruled the province since the eighties.

MARISA LERIAS, LOSING LP CANDIDATE FOR CONGRESS: To say it's rampant at this point is an understatement. It's part of the damaged culture that needs to be fixed…People say 'pahalipay', or momentary bliss which is the translation, when the effect is an eternity of grief.
Another witness, a barangay official, surfaces to support Leria's claim. She says a barangay captain who supported the National Unity Party of the Mercados ordered her to distribute 22 of at least 582 envelopes with P1,000 in cash.

BGY KAGAWAD EVELYN PEDRERA, VOTE BUYING WITNESS: Pag dating ko doon, binigyan ako ng 22 short white envelope. Sabi niya, i salig niya nako ang pag-panghatag sa mga subri sa mga tag-iya kapalit sa NUP candidates.
(When I arrived, I was given 22 short, white envelopes. He entrusted me with the distribution of the envelopes to the recipients in exchange for their votes.)

Eveylyn flees Southern Leyte with her daughter and her 4-month old granddaughter, fearing for the safety of her family.

She joins Doble who also left the province together with his wife and 9-year old son.

BGY KAGAWAD EVELYN PEDRERA, VOTE BUYING WITNESS: (Question: Gaano 'to kabigat para sa iyo?) Medyo, sometimes, kase kinalaban namin ang malalaking tao"
(Question: How hard is this for you? Answer: Sometimes, it is because we fought against influential peopleDoble says he wants to enforce the law that ordinary people like him and Evelyn believe in.)
PO1 HEFNER DOBLE, VOTE BUYING WITNESS: Di lahat ng pulis kayang suhulan…Sa mahal na pangulo natin, sana naman bigyan ng pansin kaming maliliit na nanalig sa iyo at sa batas ng Pilipinas. Bigyan aksyon ang nangyaring ito.
(Not all cops can be bought. To our president, we hope you will recognize ordinary people like us who trust in you and the law. Please act on the complaint.)
Stories about vote buying abound during elections. But rarely do witnesses like PO1 Doble and Evelyn surface to protest the practice. Do they have an agenda, or are they for real?
Voltaire Tupaz, Rappler, Manila. - Rappler.com