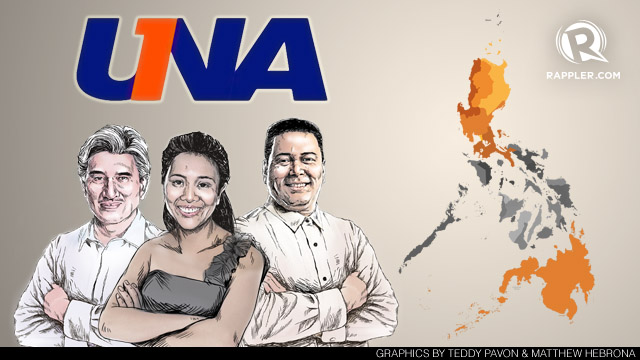 MANILA, Philippines – "We will definitely not lose by 12-0" were the words of Vice President Jejomar Binay weeks before the May 13 polls.
While he was proven right, Binay's forecast of having at least 4 senators from his United Nationalist Alliance (UNA) did not come true.
In explaining his forecast, Binay pointed to regions and provinces that he called UNA bailiwicks, based on how they delivered for him and former President Joseph Estrada in 2010. Binay also cited areas where UNA had strong local allies.
"Northern Luzon, more or less the Solid North, Region 2, we will win. I just came from Bicol, how can there be 12-0, the newspapers say Gov [Joey] Salceda will support 5 UNA candidates? I came from Zamboanga, I cannot think how we can possibly lose in Mindanao," Binay said in the first week of May.
Final, official results showed it was 9-3 in favor of administration slate Team PNoy, with just 4 to 5 UNA candidates at most managing to win in the areas the alliance claimed as bailiwicks.
Are the traditional Erap-Binay regions and provinces their bailiwicks no more?
For UNA leaders and political observers, the alliance's lack of local candidates, the popularity of President Benigno Aquino III, and the changing demands of voters help explain the results.
They said these factors challenge politicians' conventional wisdom on bailiwicks and how to win elections.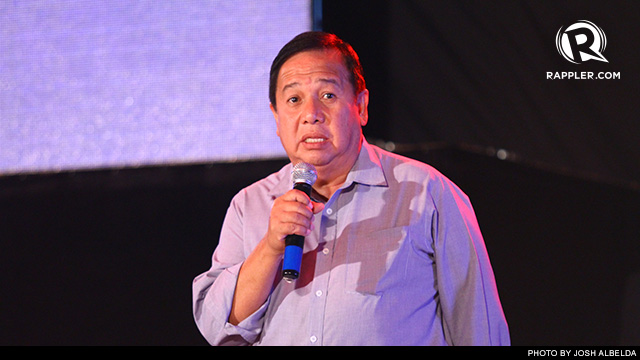 NCR'S CHOICE. UP NCPAG Dean Edna Co says Gordon fared well in Metro Manila because the middle class appreciates his track record and performance in debates. File photo by Josh Albelda
NCR traditionally opposition?
In the National Capital Region (NCR), the outcome was 8-4. Thirteenth placer former Sen Richard Gordon was the highest ranking UNA bet at number 5, followed by San Juan Rep JV Ejercito at 9th place, Binay's daughter Nancy at 10th, and Sen Gregorio Honasan II at 11th.
It was also 8-4 in the so-called Binay country of Makati, with Gordon placing second to Team PNoy's Grace Poe, and Binay only placing 3rd. Ejercito was 7th while Honasan was 8th.
In the city of Manila where UNA stalwart former President Joseph Estrada won as mayor, the result was also 8-4. In Estrada and Ejercito's original home city, San Juan, the outcome was 9-3, with Ejercito just placing second to Poe, Gordon at 3rd and Honasan at 9th place.
UNA though managed a stronger showing in the home city of its campaign manager, Navotas Rep Toby Tiangco. In Navotas, 5 UNA bets won.
Henry Caunan, UNA campaign sortie manager and Vice President Binay's former political affairs officer, told Rappler that UNA expected to win at least 6 seats in Metro Manila, which he said is traditionally an opposition region.
"Medyo mabango pa rin ang administrasyon compared to the past administration, the time of Gloria. Ito kasi, parang the first 3 years of PNoy, wala ka pang masabing masama eh." (The administration is still popular compared to the past administration of Gloria Arroyo. In the first 3 years of PNoy, you cannot say anything negative against him yet.)
In an interview with Rappler, Nancy Binay said one reason she did not top the race in Makati is because she did not concentrate on campaigning there.
As for Ejercito also not topping San Juan, Caunan pointed out that his father, former President Estrada, even lost in the city in his 2010 presidential bid.
Edna Co, dean of the UP National College of Public Administration and Governance (UP NCPAG), saw the results differently.
Co explained: "I would like to think NCR is basically made up of the middle class, intelligentsia bulk. It is opposition in the sense that NCR is always critical of issues, period, not necessarily critical of the administration. Voters are more analytical and I say that to argue why Gordon is in."
She added, "The middle class will support Gordon because of his experience, track record, and being articulate."
Co said that it was for this same reason NCR went for Team PNoy bets like Sen Francis Escudero and Sen Alan Peter Cayetano, both lawyers and eloquent men. Grace Poe topping the polls is also a sign that people want fresh faces and ideas, she said.
On Manila, Co said it was not surprising that UNA won just a few seats there because Estrada also did not muster an overwhelming victory against incumbent Mayor Alfredo Lim of the ruling Liberal Party (LP).
Co distinguished between two types of voters in NCR.
"I think the urban poor will likely be favorable for UNA because of the symbolism of Binay and Estrada. In this particular case, it's a war between that kind of constituents: the poor and the middle class intelligentsia which are followers of Team PNoy."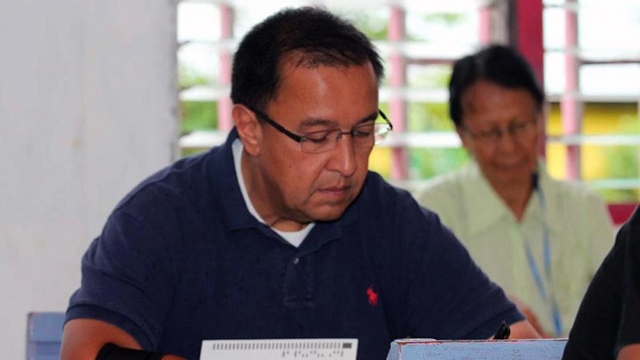 REGIONAL CHOICE. While Northern Luzon went for candidates who hailed from the region, other UNA bets did not fare as well. Cagayan Rep Jack Enrile topped the polls in Cagayan province. File photo from Enrile's Facebook page
Luzon, scions, and falling dynasties
UNA also claimed Northern Luzon as bailiwick, with its leaders Binay and Senate President Juan Ponce Enrile hailing from there.
Yet the outcome was just 8-4 for Region I (Ilocos), II (Cagayan Valley), III (Central Luzon), and IV-A (Calabarzon).
UNA bets though topped their home provinces in the region: Cagayan Rep Jack Enrile was number one in his province, so was Nancy Binay in Isabela, the home province of Vice President Binay's mother, while Gordon was first in Zambales.
Caunan explained, "The problem is the people voted for the candidates who are from there but the locals did not campaign for the whole UNA slate, and in majority of the provinces in Regions I and II, we did not have UNA candidates or just a few."
He stressed that having none or a few local candidates proved to be a major obstacle for UNA, the dominant minority party.
"For example, in Tarlac, Tingting Cojuangco is from there but we had no UNA candidate because the candidates there are mostly NPC (Nationalist People's Coalition). In midterm and national elections, you need local candidates to campaign for your national candidates," Caunan said.
Cojuangco did not win even in her home province, where the result was 9-3.
In Region V (Bicol), only two UNA bets – Binay and Honasan – won despite expressions of support from Salceda, the NPC's Camarines Sur Rep Luis Villafuerte Sr and former Rep Wimpy Fuentebella.
Villafuerte lost his gubernatorial bid while Fuentebella won a tight congressional race against LP's Aga Muhlach.
Co said the notion of traditional bailiwicks is changing because voters want new names and faces.
"There is change if you look at some regions where political families suffered losses. It's not just that the old political families win because of name recall. Even the local machinery is starting to break down because in Camarines Sur, [Leni] Robredo won. If it's just local machinery, then Villafuerte should have won but there is change."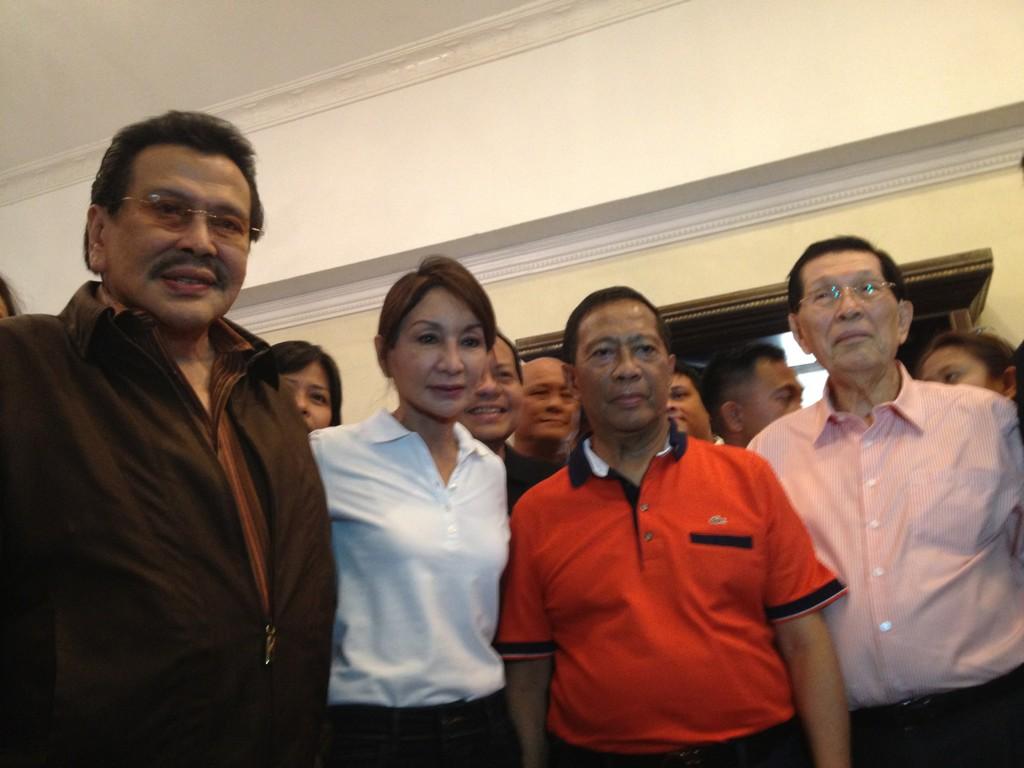 BINAY'S PROBLEM. UNA admits Visayas remains Vice President Binay's problem with the weak performance of its candidates there despite alliances with local leaders like suspended Cebu Gov Gwen Garcia. File photo courtesy of Mike Acebedo Lopez
Just 10-2 in Visayas despite allies
Co said the same holds true for the Visayas, where the result was 10-2 for Regions VI (Western Visayas) and VII (Central Visayas) despite UNA's efforts to clinch prominent politicians there as allies.
UNA allied with Iloilo's defeated gubernatorial bet 4th district Rep Ferjenel Biron and suspended Cebu Gov and 3rd district congresswoman-elect Gwendolyn "Gwen" Garcia. The coalition forged the alliances in an effort to boost Binay's stock in the regions where he lost in 2010.
Yet Caunan admitted that UNA was not successful.
"Sa Iloilo, puro natalo ang local candidates namin eh. Winalis except for the district (4th) of the brother of Ferj Biron. In Region VII, Pablo John Garcia lost for Cebu governor and almost everyone lost except for Gwen. Problema talaga ni VP iyan. Nilalampaso kami diyan."
(In Iloilo, almost all our local candidates lost. They swept that except for the district of the brother of Ferj Biron. In Region VII, that is really VP's problem. They beat us badly there.)
Co said it was no surprise in the so-called Mar Roxas country. Roxas, LP president-on-leave, is widely seen as the ruling party's standard bearer in 2016, up against Binay.
"We're very regionalistic. Binay is a symbol of opposition to Mar except to some people who would assure him of alliances like the Garcias. Before the campaign period, there was already that incident with the suspension of [Gwen] Garcia. I don't think people took her resistance positively. I don't think that carried Binay very well."
Curiously, though, Nancy Binay ranked 4th in Roxas' home province of Capiz, even higher than her national ranking of 5th. She was the lone UNA bet who won there.
Caunan saw the victory coming. "Majority of the mayors in Capiz are pro-Binay. Only some there are pro-Mar Roxas. In the whole 2nd district, only one is not pro-Binay."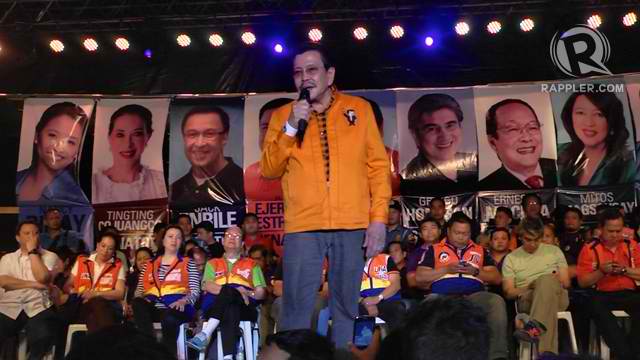 ERAP COUNTRY? UNA is surprised that San Juan Rep JV Ejercito did not rank high in Mindanao despite its reputation as "Erap country."
Mindanao, JV, and the ARMM surprise
What surprised Caunan and the rest of UNA was the ranking of Ejercito and resigned Sen Juan Miguel Zubiri in Mindanao, which was lower than expected.
It was 9-3 in Region IX (Zamboanga Peninsula), X (Northern Mindanao), XI (Davao), and XIII (CARAGA), and 8-4 in Region XII (SOCCSKSARGEN).
Zubiri topped his home region (X) and province of Bukidnon but ranked just 11th to 12th in the other Mindanao regions. Caunan said this was a departure from Zubiri's showing in 2007.
Caunan also called Ejercito's ranking a puzzle, with Mindanao's reputation as Erap country. In 2010, Estrada topped the elections in 12 provinces in Mindanao in addition to 12 more in Luzon.
Ejercito is also looking into the Mindanao vote, calling it "unimpressive."
Nancy Binay told Rappler, "I can't believe more Team PNoy candidates won in Mindanao because there is that power crisis issue there. And for Sen JV, that's an Estrada bailiwick."
Caunan said it was possible that Estrada's popularity did not translate to support for his son or that Estrada is no longer as strong in Mindanao.
For Co, UNA may have to check if Mindanao is still Estrada turf.
"Is that still his bailiwick or will that have to change? What do people want? Even if you say before he did well there, maybe voters are saying, 'Let's invest on this one because this person will bring change in our lives. Let's try someone else.' People have that sentiment now."
The biggest surprise for UNA was its showing in the Autonomous Region in Muslim Mindanao (ARMM). While the alliance never claimed it as a bailiwick, Nancy Binay topped the polls there.
The result was also 7-5 in Maguindanao and Sulu even if ARMM leaders are allied with the LP. In these two provinces, Binay was also number one.
Caunan had an explanation: "Whether the local candidates are UNA or LP, they carry Nancy because they have a commitment to VP. The leaders pledge to VP, 'Doon muna kami sa LP pero kami bahala kay Nancy.'" (We will ally with LP but we'll take care of Nancy.)
UNA's sortie manager also said that many congressmen, governors, and mayors in ARMM are Alpha Phi Omega (APO) fraternity brothers of Vice President Binay. He added that many areas there are sister municipalities of Makati.
"That is Nancy's advantage, her secret weapon," he said.
Still, UNA called attention to the 100% turnout in 70 precincts in ARMM.
Lessons to apply in 2016
After running UNA's ground war, Caunan said he learned a valuable lesson that the coalition can apply in 2016.
"A national party should have local candidates in each municipality and city, otherwise where will you candidates land? You go to Cavite, you don't have governors, mayors, where will you hold your rally?"
He added: "Sasakay ka kung kani-kanino, walang tatanggap sa iyo. Hindi magandang tingnan. Kanya-kanyang lakad ang mga senador mo, kanya-kanyang kaibigan." (You will ride the campaign of whatever party, whoever will accept you. It doesn't look good. Your candidates will have their own trips, tap their own friends.)
Caunan added that having local bets translates to having precinct watchers, crucial in ensuring that the alliance's candidates are not cheated.
He said it would also help the coalition to have a leader to accompany its candidates in sorties like what President Benigno Aquino III did with Team PNoy. With UNA's 3 top leaders busy or ill, Caunan said Sen Jinggoy Estrada could have played a more active role.
"Jinggoy could have led the campaign trail also to reintroduce himself if he is running for vice president. In Team PNoy, if PNoy is not there, they have Sen [Franklin] Drilon or Mar Roxas. In our rallies, it's mostly just us."
Co said though that candidates and political parties must go beyond old thinking.
"People want change. That's the resonating message in 2013. In many cases, the strategy candidates use is formulaic: when you have the local machinery, if it's a bailiwick in the past, you think you control it. I don't that that's entirely correct. It's with the people. What do people want now?"
More than name recall, Co said candidates must focus on other elements.
"There is an aggregation of other factors: performance, change, and not campaigning negatively. Don't go by big slogans and symbolism because even in what are supposed to be bailiwicks, politicians slide down. People think, 'I will welcome a fresh face regardless of UNA, Team PNoy as long as they can show they can bring change.'"
She added, "To winning candidates, the message is to prove now that the people's votes were correct that they invested in you for hope and change." – Rappler.com