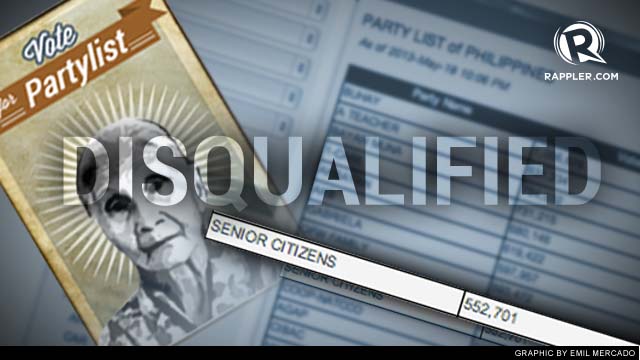 MOST PROMINENT. In terms of votes, the group Senior Citizens leads the pack of party-list winners.
MANILA, Philippines – Time for winning party-list groups to celebrate? Not too quick.
If the Supreme Court (SC) issues an order against their proclamations, the Commission on Elections (Comelec) will have to shake up the roster of party-list winners, and possibly dislodge some groups from their seats.
Comelec chair Sixto Brillantes Jr confirmed this Tuesday, May 28, after the poll body proclaimed party-list winners who will occupy 53 seats in the House of Representatives.
The shake-up could happen because 11 disqualified groups appealed their case before the SC. The most prominent among these groups is Senior Citizens, which got 677,642 votes – the 10th most number of votes that a party-list group received.
If the SC issues a status quo ante (SQA) order for one or more of these groups, the Comelec will have to recompute the votes for the party list. The law requires the allocation of party-list seats based on the total votes cast for the party list.
Read: How to fill the 58 party-list seats
"Magkakakonting adjustment. Baka may matanggal pa." (That entails adjustments. Some groups may even get dislodged)
He said if the SC grants a reprieve to the group Senior Citizens, for instance, the top vote-getter Buhay may lose a seat in Congress. It was the only group that got 3 seats based on the initial proclamation.
Other groups on the fringes may also lose their seats.
Brillantes said nothing is illegal with dislodging some winners, if one condition is met. "Bakit naman hindi? Basta Supreme Court ang nag-utos." (Why not? As long as the Supreme Court ordered it.)
He said two winning party-list groups – LPGMA and Kabataan – still face election offense cases over illegal posters. This could jeopardize their seats, he said.
On Tuesday, the Comelec said it proclaimed the winning groups "without prejudice to the proclamation of other parties, organizations, or coalitions which may later on be established to be entitled to one guaranteed seat, and/or additional seats." – Rappler.com