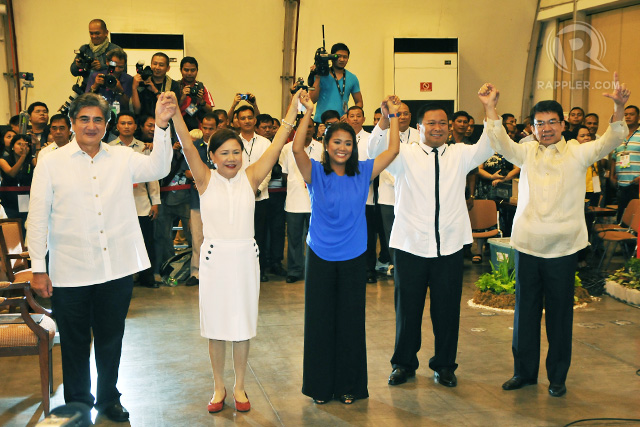 FINAL PROCLAMATION. The national board of canvassers proclaims the last set of winning senators. Photo by Rappler/Roy Lagarde
MANILA, Philippines – The Commission on Elections (Comelec) on Thursday, June 6, released the final tally of votes in the senatorial race, validating the winners' initial rankings when the poll body proclaimed them in May.
The 12 winners maintained the rankings published on May 18, when the Comelec last released a partial canvass report, its basis in proclaiming senators.
Surprise frontrunner Grace Poe Llamanzares kept the top spot, with 20,337,327 votes. Since May 18, the poll body has tallied 189,904 more votes for Poe.
The winner in the 12th and last spot – Gregorio "Gringo" Honasan – widened his lead over former senator Richard Gordon.
Honasan garnered 13,211,424 votes, based on the final tally. Gordon only got 12,501,991. That's a 709,433-vote lead in favor of Honasan, rising from the 695,008-vote lead in the May 18 tally.
Below is the Comelec's final, official tally for the 12 winners:
LLAMANZARES, Mary Grace Poe - 20,337,327

LEGARDA, Lorna Regina "Loren" - 18,661,196

CAYETANO, Alan Peter – 17,580,813

ESCUDERO, Francis Joseph "Chiz" – 17,502,358

BINAY, Maria Lourdes Nancy – 16,812,148

ANGARA, Juan Edgardo "Sonny" – 16,005,564

AQUINO, Paolo Benigno "Bam" IV – 15,534,465

PIMENTEL, Aquilino Martin "Koko" III – 14,725,114

TRILLANES, Antonio "Sonny" IV – 14,127,722

VILLAR, Cynthia – 13,822,854

EJERCITO, Joseph Victor "JV" – 13,684,736

HONASAN, Gregorio "Gringo" – 13,211,424
The Comelec, which sits as the national board of canvassers, drew flak over supposedly "rushed" proclamations in May. Critics, led by retired Chief Justice Artemio Panganiban, questioned the Comelec's use of partial tallies.
Comelec chair Sixto Brillantes Jr, for his part, defended the Comelec's use of the so-called group canvass reports. – Rappler.com