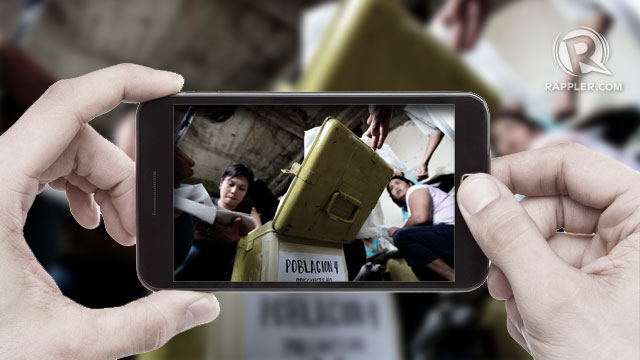 MANILA, Philippines – You think you've heard all the schemes to cheat in manual elections in the Philippines.
Well, not yet.
Hours after the polls opened on Monday, October 28, Commission on Elections (Comelec) Chairman Sixto Brillantes Jr launched a fight against taking selfies at polling precincts, apparently because the act was linked to a new vote-buying scheme.
Selfies are photos taken of oneself within arm's length, normally intended for uploading on social media.
In an interview with GMA News TV on Monday morning, Brillantes said candidates buying votes were requiring voters to snap photos of themselves and their ballots to show that they delivered.
Brillantes said phones should be turned off inside polling precincts.
In past elections, taking of pictures inside the polling centers was prohibited. Even media practitioners with cameras were allowed to take photos or videos only within a certain distance from the precincts.
One of the earliest cheating schemes in manual elections was said to be "cadena de amor" (love chain). It is literally a chain that begins with the first set of voters who bring with them fake ballots that they will drop inside the yellow boxes. They pocket the real ballots and then surrender them to the candidates.
The real ballots are then filled up with the candidate's lineup and then distributed to the second batch of voters who will drop those prepared ballots and pocket the new ones they will be given inside the voting centers. The cycle continues.
The scheme was eventually discovered. It prompted the Commission on Elections to put barcodes in the ballots.
The most notorious scheme in the country's long history of manual elections was the dagdag-bawas (literally, vote padding and shaving).
It's a scheme that requires the complicity of teachers acting as election officers. There are various combinations the teachers can do: 1) pad a favored candidate's votes; 2) shave the competition's votes; 3) pad a favored candidate's votes and shave the competition's.
It's a scheme that can happen in one or various stages of the canvassing. For barangay polls, it happens in the voting precincts only. In national elections, it can happen at every stage of the canvassing – from the vote counting in precincts, to the municipal and provincial consolidation of votes.
This can mean tens of votes for barangay candidates to tens of thousands of votes for national candidates. – Rappler.com

Smart phone image via Shutterstock. With file photo by EPA.