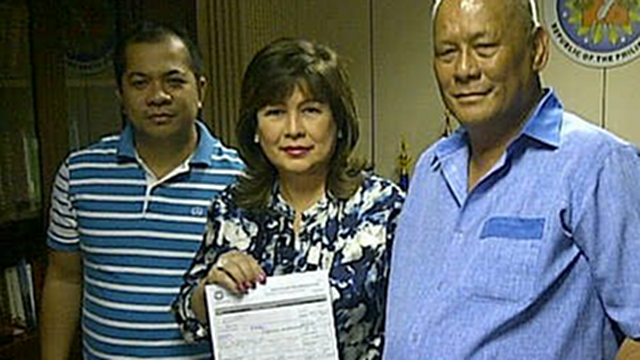 CEBU VOTER. Annabelle Rama registers as a Cebu City voter Friday. Photo from the Twitter account Joel Rama del Prado (@joeldelprado)
MANILA, Philippines – She will run for a congressional seat in Cebu in 2013, controversial celebrity talent manager Annabelle Rama announced Friday, May 18, as she was visiting Cebu City to officially register as a voter there.
"I'm running for congresswoman of Cebu," Rama said in her Twitter account (@annabellerama2) in response to a question if she will indeed run as Cebu City councilor.
Her first cousin, Cebu City Mayor Michael Rama, told Cebu Daily News he invited the celebrity to run for public office. "Mo sulod man gani ang ubang artista sa politika, siya pa kaha nga Rama na daan," the mayor explained. (Other actors are entering politics. Why not her, when she's already a Rama?)
Netizens gave amusing reactions to her possible candidacy, with one Twitter user calling her a potential "loudspeaker" of Congress.
A Cebuano, Sen Sergio Osmeña, welcomed Rama's decision to run for Cebu congresswoman.
"It will be fun! It's like having Miriam (Santiago) run there," said Osmeña said. "They have very colorful personalities, very outspoken, very beautiful."
"She has a right to present herself for public office and I wish her well," the senator added. "Sana ituloy niya." (I hope she pushes through with it.)
Whether or not Rama will push through with this would be known by October 2013, the last month for filing certificates of candidacy. – Rappler.com