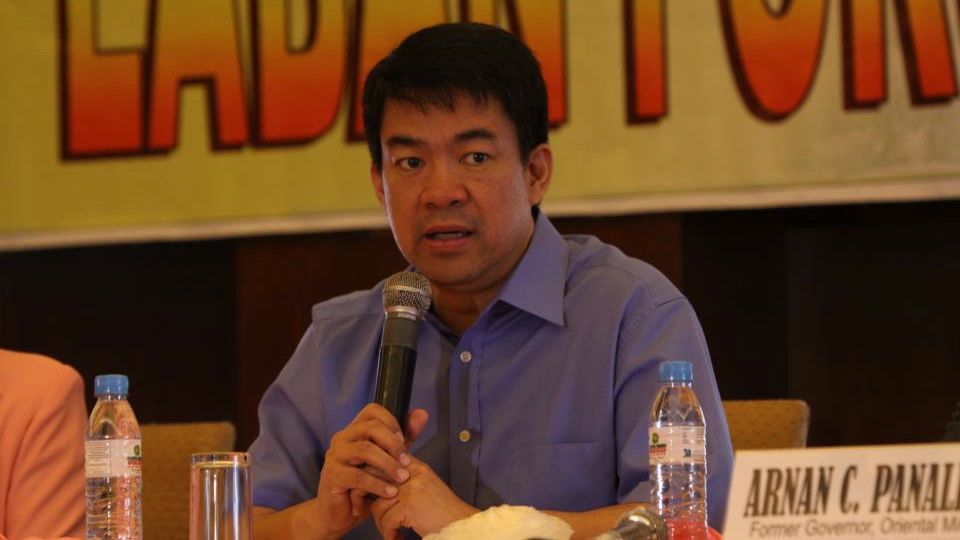 LEAVING UNA? Sen Aquilino "Koko" Pimentel III says he is ready to leave UNA over the inclusion of Miguel Zubiri in its senatorial slate. File photo by PDP-Laban
MANILA, Philippines – Sen Aquilino "Koko" Pimentel III would rather lose than run alongside an "election cheat."
For the first time, Pimentel indicated that he is willing to leave Vice President Jejomar Binay's United Nationalist Alliance (UNA) over the likely inclusion of resigned Sen Juan Miguel Zubiri in its senatorial slate for 2013.
Pimentel wrote his godfather, former President Joseph Estrada on May 21, indicating the reasons for his strong objection to Zubiri's inclusion in UNA. Estrada, however, said in a later interview that UNA will not drop Zubiri and it cannot stop Pimentel from leaving if he really wishes to.
Zubiri is a new member of Estrada's party, the Pwersa ng Masang Pilipino (PMP).
Pimentel released the letter to the media on Thursday, June 7. (Read it in full below.)
"I realize that I need UNA's help in order to win as Senator in 2013. But if UNA requires me to run with an election cheat before help is extended to me, then I am prepared to lose, for as long as I remain true to what I passionately believe in," wrote Pimentel who is running for re-election in 2013.
Pimentel has maintained his objection to Zubiri despite statements from Estrada and Binay favoring the latter as an UNA senatorial bet. Estrada and Binay said a slate with both Zubiri and Pimentel will increase the representation of Mindanao in the Senate.
Pimentel's objection stems from the 2007 electoral protest he filed against Zubiri. Zubiri was proclaimed winner in 2007, but quit the Senate in August 2011 shortly before the Senate Electoral Tribunal ruled in favor of Pimentel.
Pimentel is in a tough position because he is president of Binay's Partido Demokratiko Pilipino-Lakas ng Bayan (PDP-Laban), a coalition partner of PMP under UNA.
Pimentel said, "I am very passionate about electoral reform. There is no way during the campaign of 2013 that I can avoid attacking election cheaters. We will be on the same stage and I will be attacking him? This is the scenario I am avoiding."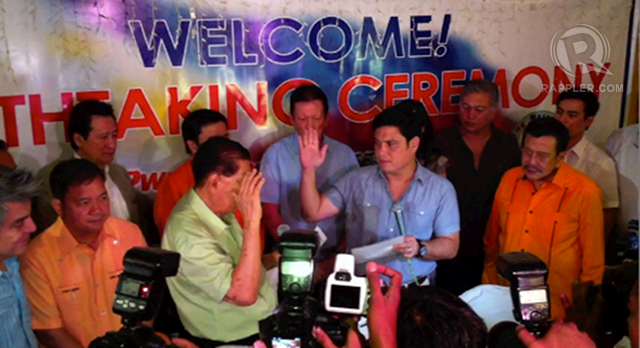 'ELECTION CHEAT.' Sen Koko Pimentel calls Miguel Zubiri an election cheat, refusing to be with him on the same senatorial slate. File photo of Zubiri's PMP oath-taking by Ayee Macaraig
'Benefits of a stolen office'
In his letter, Pimentel said Zubiri is the biggest beneficiary of electoral fraud in 2007, now the subject of electoral sabotage cases he filed against former President Gloria Macapagal-Arroyo, and former Commission on Elections Chairman Benjamin Abalos Sr.
"I have put my life on the line in the fight against electoral fraud," Pimentel told Estrada. "What has Migz done in this regard? Well, he enjoyed tremendously the benefits of a stolen office. He held on to the proceeds of the crime of electoral fraud for 4 long years and two months!"
Pimentel also reminded Estrada that Zubiri accused him of electoral fraud in his pleadings with the Senate Electoral Tribunal, and ended up claiming that the opposition then was behind the cheating.
"The 'opposition' in 2007 was led by you and then Makati Mayor, now Vice President Jejomar Binay. Migz even put Makati City as number one in the list of places where he claimed to have been cheated by the 'opposition.'"
"The real cheater called all of us 'cheats,'" said Pimentel.
Pimentel also said that there is already evidence that fake election documents and ballots were stored in the Zubiri compound in Maramag, Bukidnon. "Does UNA really want to be tainted with this heinous crime?"
Zubiri has denied allegations he had a hand in the fraud, and said he has no problem running alongside Pimentel next year.
There have been reports that Pimentel might run under President Benigno Aquino III's Liberal Party (LP). The LP has named him as a possible senatorial candidate.
Asked about his plans, Pimentel told Rappler in a text message last Tuesday, June 5, "I've made my formal objection. I've rested my case. Awaiting their move."
"I lift it all to God. I'll just wait for the formal decision," said Pimentel.
(For more on Pimentel and UNA, read our special reports: Binay and the politics of firsts and UNA vs LP: What's the difference?) – Rappler.com